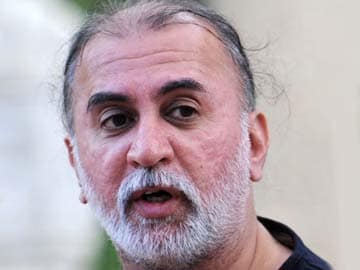 New Delhi:
In what he described as an informal note of apology to the woman he is now accused of raping, Tarun Tejpal, the founder of Tehelka, describes "a frivolous, laughing mood" that they shared on an evening at a five-star hotel in Goa. He suggests their encounter was consensual. She derided his version of events in a reply where she states, "The moment you laid a hand on me, I started begging you to stop...you refused to listen." (
Read reporter's rebuttal to Tejpal's 'informal apology'
)
The emails were exchanged last week after the reporter complained in writing to Tehelka's Managing Editor Shoma Chaudhury that she had been sexually assaulted by Mr Tejpal, 50, at a Tehelka event in Goa.
Mr Tejpal responded to that complaint with two notes to her. The first, he said, was personal - "for you and me."
In the second, he acknowledged twice attempting "a sexual liaison" despite the reporter's "clear reluctance." That email is now being used by the Goa Police as evidence of its allegations that he raped her.
In the informal apology, Mr Tejpal writes, "We were playfully and flirtatiously talking about desire, sex..." He adds that they spoke of "the near-impossibility of fidelity; and of the aftermath of meeting me one stormy evening in my office when I was sitting watching the thunderclouds." (
Read entire text of "informal apology" by Tarun Tejpal
)
In her rebuttal the next day, the reporter says, "There was no 'aftermath' of that evening with the 'thunderclouds'." She recounts that she met him in his office to discuss a story she had reported. "I wish again, that you remembered the professional reason I had met you that evening, instead of the storm and the thunderclouds."
She also challenges him about his account of their encounter in Goa: "The conversation from that night was not 'heavily loaded' or flirtatious, -you were talking about 'sex' or 'desire' because that is what you usually choose to speak to me about, unfortunately, never my work."
Mr Tejpal writes to her, "It was in this frivolous, laughing mood that the encounter took place. I had no idea that you were upset, or felt I had been even remotely non-consensual" and "You have made it clear that I read it all wrong, and I will not dispute it, nor underplay your anger or hurt. This is easily the worst moment of my life."
The reporter writes back that there was no ambiguity in her response to him. "The moment you laid a hand on me, I begged you to stop," she writes. "You refused to listen. In fact, you went ahead and decided to molest me again on the following night."