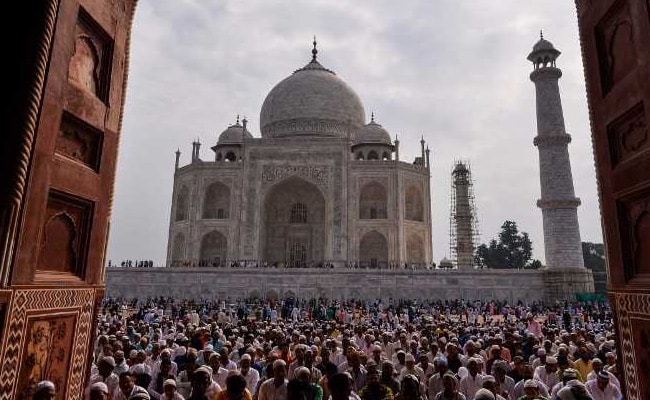 Lucknow:
The Taj Mahal is originally a Hindu temple and should be renamed "Tejo Mahal", BJP parliamentarian Vinay Katiyar said today, wading into the controversy over the 17th century Mughal-built monument and some outrageous comments on it.
Mr Katiyar, a Rajya Sabha member who is a prominent figure in the campaign for a Ram temple at the Babri mosque site in Ayodhya, asserted that the Taj Mahal was built on the ruins of an ancient Shiva temple.
"Taj Mahal is a Hindu temple. There are many symbols of Hindu gods and goddesses in Taj. It was known as Tejo Mahal and water used to drip from its ceiling...,"Mr Katiyar said.
He went on to buttress his theory on the marble mausoleum and said Uttar Pradesh Chief Minister Yogi Adityanath "should go into the Taj Mahal and see the Hindu signs inside it".
There is a section that has propagated, over the years, the theory that the "Tejo Mahal" was gifted to Mughal emperor Shah Jahan and not built as a tribute to his beloved wife Mumtaz Mahal.
"If this was only a grave then why are so many rooms built here? There is no need to demolish any structure anywhere. Its name should be changed to Tejo Mahal... The British did not demolish our structures but the Mughals did,"Mr Katiyar said.
The Taj Mahal in Agra, counted as one of the world's wonders and a tourist favourite, was dragged into a political row after it was recently left out of a new tourism brochure released by the six-month-old BJP government in UP.
Yogi Adityanath will visit the Taj Mahal next week
for damage control after a legislator of the BJP, Sangeet Som, supported the shocking omission and described the Taj Mahal as
"blot on Indian culture"
, a monument built by traitors and a symbol of slavery.
Mr Som, one of the politician accused of inciting riots in 2013 in Muzaffarnagar, also said Mughal history should be erased from the country's history.
Yogi Adityanath, who had months ago commented that the Taj does not represent Indian culture, said yesterday that the monument was built by the blood and sweat of Indian workers and "it does not matter who built it".