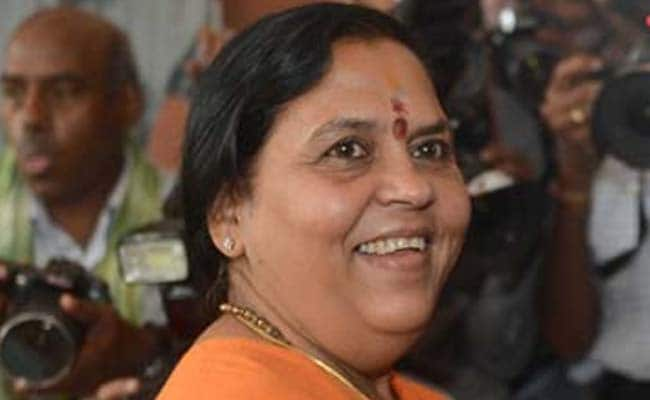 New Delhi:
Union Water Resources Minister Uma Bharti today called for sustained co-operation from the Human Resource Development Ministry for ensuring successful implementation of the 'Namami Gange' programme, by intervening in areas like rural sanitation and adult education on environment.
Addressing a meeting regarding role of IITs and educational institutes at a programme today, she mentioned areas where Human Resource Development Ministry's intervention is "specifically" required.
She said that rural sanitation, reuse of solid waste, adult education on environment, with focus on Ganga; development of projects especially for the most-polluted tributaries like Ramganga, Kali and Yamuna and determination of e-flow and 'jan bhagidari' (public participation) was needed.
Ms Bharti also said the major challenge before the government is to keep the Ganga clean with approximately 20 crore people taking a dip in it every year.
"Small stretches of rural areas can be adopted by educational institutes for treatment of small drains carrying rural sewage and solid waste and facilitate in providing 100 per cent rural sanitation," the ministry quoted Bharti as saying in a statement.
Speaking on the occasion, Human Resource Development Minister Smriti Irani proposed a three-pronged approach for the involvement of her ministry in the programme.
This, she said, will include integration of all villages along River Ganga in 'Unnat Bharat Abhiyan' - inspired by the vision of transformational change in rural development processes by leveraging knowledge institutions to help build the architecture of an 'inclusive India'.
She added the need for 'Special Literacy Package' for 'Namami Gange' - 100 per cent literacy to the villages along river Ganga with special address to adult literacy and bringing team of national and international experts to develop innovative technologies and perform research in areas to address the challenges faced by river Ganga as two other approaches.
"She (Irani) emphasised that most challenging part in the implementation of Ganga cleaning programme is to bring behavioural changes and initiate a social movement. The Minister said these issues issue can be addressed by her Ministry by providing adult literacy and involvement of students in creating awareness," the statement said.
It was mutually agreed that secretaries of both the ministries will discuss these possible approaches and identify actionable points through which the Human Resource Development Ministry can be involved in the programme.
The action plan will include 'goal posts' for three months and review of the progress every six months.
The meeting was also attended by senior officials from the two ministries along with representatives from IIT-Delhi and IIT-Kharagpur, among others.