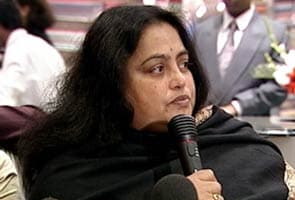 Kolkata:
"The way I fought against Taliban, every girl, every woman should fight too" - Indian author Sushmita Banerjee had uttered these words nearly a decade ago. The writer, famous for her memoir about her dramatic escape from the Taliban, was shot dead in Afghanistan by suspected Taliban men.
While her husband and other members of the family were tied up, Ms Banerjee was dragged out of her house in Kharana town and gunned down at point-blank range on Wednesday - a cold-blooded execution that, experts say, carries the Taliban imprint. Her bullet-riddled body was found near a religious place the next morning.
The 49-year-old, hailing from Kolkata, had shot into prominence with her book "
Kabuliwalar Bangali Bou
(A Kabuliwala's Bengali Wife)", about her escape from the Taliban in 1995, which was made into a Bollywood film in 2003.
In the book, Ms Banerjee, who married an Afghan businessman in 1989 and reportedly changed her name to Sayed Kamala, detailed the tribulations of life in Afghanistan under the then Taliban regime - she was forced to shut down her dispensary from where she distributed medicine. A defiant Ms Banerjee tried to fight back but was forced to flee the country in 1994.
"One night I made a tunnel through the mud walls of the house and fled. Close to Kabul I was arrested. A 15-member group of the Taliban interrogated me. Many of them said that since I had fled my husband's home, I should be executed. However, I was able to convince them that since I was an Indian, I had every right to go back to my country," Ms Banerjee wrote.
"The interrogation continued through the night. The next morning I was taken to the Indian embassy from where I was given a safe passage. Back in Calcutta, I was re-united with my husband. I don't think he will ever be able to go back to his family," she said in her book.
Ms Banerjee did return to Afghanistan, in January this year, according to her neighbours in Diamond City in north Kolkata, who are still to come to terms with the horrific news. "She was a very nice lady... We were happy when she returned to her husband in Afghanistan. And then this," said a neighbour.