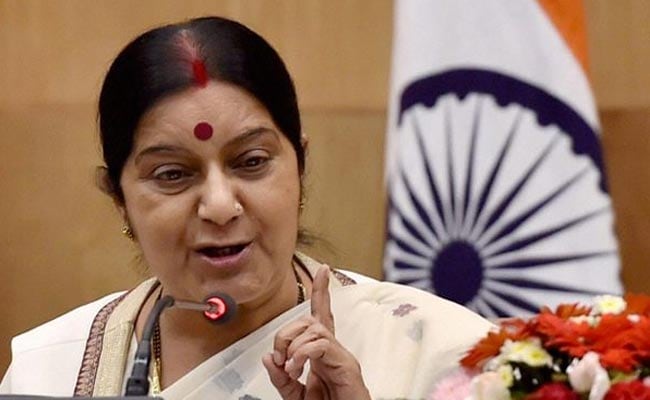 New Delhi:
In the first high-level visit from India after Aung San Suu Kyi's National League for Democracy (NLD) assumed power in Myanmar earlier this year, External Affairs Minister Sushma Swaraj will visit the eastern neighbour on Monday.
Sushma Swaraj will be calling on Myanmar President U Htin Kyaw and hold discussions with Aung San Suu Kyi, State Counsellor and Foreign Minister of Myanmar.
The discussions are expected to focus on the bilateral content of the relationship as well as plans for the upcoming outreach summit of BRICS (Brazil, Russia, India, China, South Africa) and the Bay of Bengal Initiative for Multi-Sectoral Technical and Economic Cooperation (Bimstec) in India.
According to the External Affairs Ministry, the day-long visit reaffirms India's commitment to heightened partnership with Myanmar in areas accorded priority by the new government of Myanmar.
India and Myanmar share close relations with a development cooperation programme in areas such as agriculture, information technology, human resource development, infrastructure development and culture.
During the visit, Sushma Swaraj will be accompanied by Foreign Secretary S Jaishankar and other senior officials of the Ministry of External Affairs.
India and Myanmar reviewed the entire gamut of bilateral issues during the 15th round of Foreign Office Consultations here earlier this month including high-level visits, security and defence-related issues, boundary matters and border management, trade and commerce, development cooperation, connectivity, cultural and consular matters.
They also exchanged views on issues of mutual interest at regional and multilateral forums.
The consultations are of special significance as these were the first institutionalised exchanges between India and Myanmar after the swearing in of the new NLD government in Myanmar on March 30 this year.
In the intervening period, National Security Advisor Ajit Doval visited Myanmar as a special envoy of Prime Minister Narendra Modi on June 16, 2016, and Minister of State for Commerce and Industry Nirmala Sitharaman led a high-level business delegation to the eastern neighbour for the India-Myanmar Business Conclave on May 18-20, 2016.
Last month, in a meeting with Minister of State for External Affairs VK Singh on the sidelines of the Association of Southeast Asian Nations (Asean) Foreign Ministers' Meeting, Suu Kyi said that she looked forward to visiting India.
As her country's constitution bars her from becoming President, the Nobel Peace laureate serves as the State Counsellor and Foreign Minister.
Suu Kyi made her first visit in her current capacity to China last week.