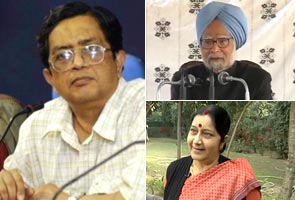 New Delhi:
Senior BJP leader Sushma Swaraj has denied that there are any differences within the party over the Prime Minister's statement on the CVC case.
Responding to questions from the media on Saturday, Ms Swaraj clarified that she didn't ask for the PM's statement as he had already said that he will make one and that, this in no way meant that there were differences between her and party leader Arun Jaitley.
"There is no difference within the party and between me and (Arun) Jaitley on the issue. The demands he (Jaitley) made, the Prime Minister had already spoken about it that he will give a statement in Parliament.
"That is why I did not put it on Twitter...There is a constraint in Twitter that you have to say things in 140 characters. So I did not put it on Twitter," she said.
"Newspapapers have tried to show differences between me and Jaitley. The only difference is that he demanded a statement from the PM in Parliament. In fact, the PM had said that he will make a statement in Parliament," she sought to explain.
Prime Minister Manmohan Singh said on Friday that he accepted the responsibility for the appointment of PJ Thomas as Central Vigilance Commissioner (CVC) and that he respected the Supreme Court's judgement invalidating Thomas' appointment. "I respect the judgement of the Supreme Court... it is necessary to ensure that such things don't happen again.... this is not a question that relates to coalition compulsions," he told reporters in Jammu.
On Thursday, the Supreme Court declared that PJ Thomas' appointment as India's Central Vigilance Commissioner was invalid. Mr Thomas was selected in September by a three-member committee consisting of the PM, the Home Minister and Leader of the Opposition Sushma Swaraj. The court said that the corruption charges pending against Mr Thomas should have ruled him out for a job that requires him to check corruption among government officials and bureaucrats.
Soon after the PM's statement, Swaraj wrote on Twitter, "I appreciate the statement of the PM owning responsibility...I think this is enough, let matters rest at this and we move forward," she tweeted.
But in divergent views, sources in the BJP said they will not stop their attack against the PM, declaring him directly responsible for the morass of Mr Thomas' selection.
"The very fact that the PM has admitted his guilt and accepted that it was a fault on his part...appointing a man whose credentials were not good enough to be appointed as the CVC...is welcome... but this very statement does not absolve the PM of his moral responsibility," said BJP spokesman Rajiv Pratap Rudy.