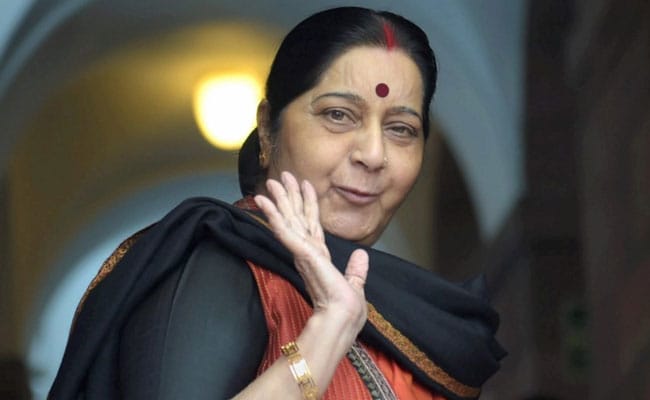 Ulaanbaatar:
External Affairs Minister Sushma Swaraj today arrived in Mongolia, becoming the first Indian foreign minister to visit the resouce-rich country in 42 years. Ms Swaraj was received by Deputy Foreign Minister of Mongolia B Battsetseg at the airport.
She is scheduled to hold bilateral talks to further strengthen political, strategic, economic, educational and cultural ties in the predominantly Buddhist nation.
"First visit of an Indian External Affairs Minister to Mongolia in 42 years! Reconnecting with our shared Buddhist heritage, Swaraj warmly received by Deputy Foreign Minister of Mongolia, B Battsetseg on her arrival in sunny Ulaanbaatar," tweeted Raveesh Kumar, official Spokesperson at the ministry of external affairs.
Ms Swaraj, who is on a two-day visit to Mongolia, will co-chair the 6th round of India-Mongolia Joint Consultative Committee meeting with Foreign Minister D Tsogtbaatar.
Ms Swaraj is the first external affairs minister in 42 years to visit Mongolia.
India and Mongolia have close cooperation in trade and economy, science, health, agriculture, culture, education, communication and tourism. The two countries are also working closely to ensure security and curbing international crimes and terrorism. The total trade between the two countries amounted to USD 25.6 million in 2016.
During her visit, Ms Swaraj is also scheduled to deliver the keynote address at the Kushok Bakula Birth Centenary Celebrations in Ulaanbaatar commemorating the birth anniversary of Late Venerable Kushok Bakula Rinpoche, a highly revered Buddhist leader and monk from Ladakh and a former Ambassador of India to Mongolia.
Bakula Rinpoche, the longest serving Indian Ambassador to Mongolia, made seminal contribution to promotion of India-Mongolia ties.
Swaraj earlier visited China where she participated in the Shanghai Cooperation Organisation meeting and on Sunday held wide-ranging bilateral talks with her Chinese counterpart Wang Yi.