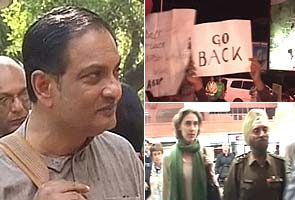 The Supreme Court will hear on March 11 the bail plea of civil rights activist Binayak Sen, sentenced to life imprisonment on charges of sedition and links with Naxalites.
Sen (61) has challenged the order of the Chhattisgarh High Court which had rejected his bail plea on February 10.
A professional doctor and pass out of the prestigious Christian Medical College (CMC), Vellore, Sen has sought bail contending that the trial court has erred in convicting him when there was no substantial evidence.
In the petition prepared by senior advocate Ram Jethmalani it has been submitted that Sen has already spent two years in jail after his arrest and he should be allowed to come out on bail during the pendency of appeal in the High Court.
Sen, Vice President of People's Union of Civil Liberties, was convicted for sedition and sentenced to life imprisonment along with Naxal ideologue Narayan Sanyal and Kolkata businessman Piyush Guha for colluding with Naxals to establish a network to fight the state.
Jethmalani, who had argued the bail plea in the High Court, had dubbed the charges against Sen as politically motivated and had said, "The whole case is nothing but political persecution."
Sen's conviction and sentence had led to outrage in many quarters, including international bodies of Human Rights.
Family members of Sen, PUCL activists, and two members of the European Union were present in the High Court during the hearing. The EU had earlier sought the High Court's permission to attend the hearings.