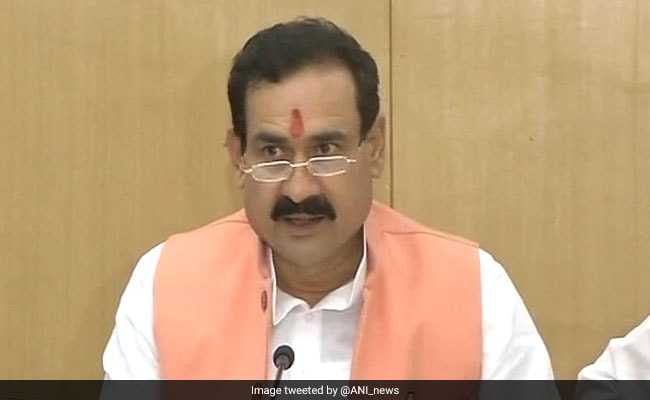 New Delhi:
The Supreme Court today agreed to give an urgent hearing to a plea of
senior BJP leader and Madhya Pradesh cabinet minister Narottam Mishra who was recently disqualified by the Election Commission
.
The poll panel had on June 23 disqualified Mr Mishra for three years over paid news charges, holding him guilty of filing wrong accounts of election expenditure related to articles and advertorials in media in the 2008 assembly polls.
A bench of Chief Justice JS Khehar and Justice DY Chandrachud said it will hear the plea at 2 PM today but the parties should come up with a remedy to the problem. Former Attorney General Mukul Rohatgi, appearing for Mr Mishra, said that he has challenged the order of Madhya Pradesh High Court refusing to give an urgent hearing to his interim prayer to allow him to vote in presidential election.
Mr Rohatgi said that he has challenged the disqualification made by the Election Commission for the 2008 Assembly polls before the High Court but it had refused to give an urgent hearing on the aspect of he be allowed to vote.
"This is the problem. We don't want everyone to be here. You should come up with a remedy. There should be a solution," the bench said and listed the matter for 2 PM today.
Mr Rohatgi said that disqualification does not mean that he can be barred from voting.
"I have the right for hearing and voting in the presidential election," Mr Rohatgi said.
Disqualifying Mr Mishra from contesting elections for three years following a complaint against him, the commission had used some strong words against paid news, calling it a "cancerous menace" that is assuming "alarming proportions" in the electoral landscape.
His election from the Datia Assembly constituency also stands void.
A full bench of the Election Commission comprising Chief Election Commissioner Nasim Zaidi and Election Commissioners AK Joti and OP Rawat in its order indicting Mr Mishra unseated him under various sections of the Representation of the People Act (RPA).
Mr Mishra, who won from Datia assembly constituency, is the minister for water resources and public relations and is the chief spokesperson of the Shivraj Singh Chouhan government. Rajendra Bharti, the main complainant in the case, had first sent a complaint to the EC about 8 years back in 2009.
The order said all the 42 news items, that appeared in five Hindi dailies, were "extremely biased in favour of" Mr Mishra, adding its findings also strengthened the conclusion that he "knowingly participated or took advantage of the expenditure on such advertisements" that appeared as news in the publications.