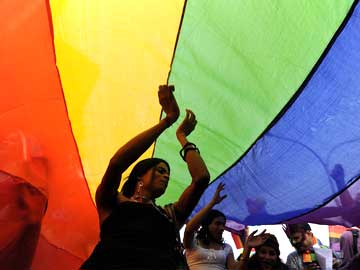 New Delhi:
The Supreme Court has ruled that gay sex is a criminal offense, a verdict that is a major setback for human rights in the world's biggest democracy.
The top court today set aside a Delhi High Court verdict from 2009 which had decriminalized homosexuality by overturning a colonial-era law. (
Verdict on homosexuality against basic human rights? Vote here
)
The Supreme Court today said that statute - Section 377 of the Indian Penal Code - which outlaws sex "against the order of nature" is constitutionally valid. Conviction carries a fine and a maximum 10-year jail sentence.
The Delhi High Court had said Section 377 is a violation of the fundamental rights guaranteed by the Constitution. Religious groups appealed against its decision in the Supreme Court.
The top court's bench was headed by G.S. Singhvi ; the verdict came on the last day before his retirement.
"It is up to parliament to legislate on this issue," Justice Singhvi said. The government was non-committal in its response. Many political parties will not support a law on gay rights. "It is not possible to legislate anything now. It needs political consensus," said Home Minister Sushil Kumar Shinde.
"We see this as a betrayal of the very people the court is meant to defend and protect," said Arvind Narayan, one of the lawyers representing a consortium of gay rights groups. "In our understanding, the Supreme Court has always sided with those who have no rights," he added.
The 2009 ruling was based on a case brought by the Naz Foundation, an Indian sexual rights organization, which fought a legal battle for almost a decade. Its members said today that they will seek a review of today's decision which would be heard by a panel of five judges.
Although prosecutions under section 377 have been rare, gay activists have said that the police used the law to harass and intimidate members of their community.