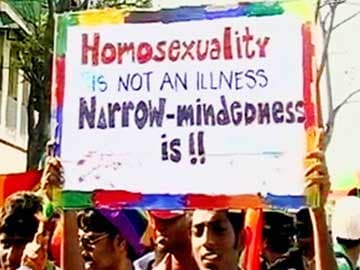 New Delhi:
The Supreme Court on Wednesday brought back a colonial-era ban on gay sex, dealing a severe blow to the largely-closeted homosexual community in India and their long battle for legitimacy.
The top court said the 2009 Delhi High court order decriminalising homosexuality is constitutionally unsustainable as only Parliament can change a law, not courts, which left critics wondering about selective judicial activism.
"It is surprising that the court which does judicial review on many issues has put the ball in the court of Parliament to decide on homosexuality," said additional Solicitor General Indira Jaising. "People expect the highest court of the land to protect their rights."
Outside the court, scores of gay rights activists and members of the community burst into tears; they had expected the court to rubber-stamp the 2009 ruling, which had been opposed by various religious bodies. Gay rights NGO Naz foundation said it would challenge the verdict.
Today's order means gay sex between consenting adults stays a criminal offence under Section 377, a 19th century law banning sex "against the order of nature". Gay activists allege that the police uses the law, which carries a punishment of up to 10 years in jail, to harass members of their community.
"This judgement is wrong. One can't criminalise same sex relations which are consensual," said senior Left politician Brinda Karat.
If the government were to step in, then the home ministry has to prepare a note for the cabinet, which in turn has to send it to Parliament. But home minister Sushil Kumar Shinde said today that it was "not possible to legislate on anything now."
The election in five months across largely conservative India is also likely to weigh on the ruling Congress at a time it is struggling with negative sentiment.
Law minister Kapil Sibal said Parliament would take it up "in due course".
"It's the Supreme Court's prerogative to test the constitutionality of our laws, it is our prerogative to make laws. On the validity of the law, the government must respect the court," Mr Sibal said.