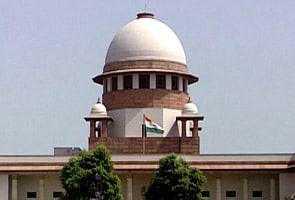 New Delhi:
The Supreme Court today issued a notice to the Centre and sought its response on removing disparity in law relating to the age for sexual consent for married women.
This comes after a Public Interest Litigation (PIL) filed by an organisation, Independent Thought, said: "Section 375 of the Indian Penal Code allows sexual relationship with a married girl at the age of 15 and does not treat it as rape, whereas anyone below the age of 18 is a child under various laws - juvenile justice act, protection of children against sexual offences act."
The PIL adds that the law should not encourage sexual relationship with a girl child under 18 because she is married, and wants the court to issue directions that age of consent for intercourse should be treated as 18, irrespective of the marital status of the child.
Earlier this year, the government had decided to lower the age of consent to 16 under the Criminal Law (Amendment) Bill, 2013, but bowing to political pressure, it retained the age of consent at 18 years in the bill, which was signed by the President in March.