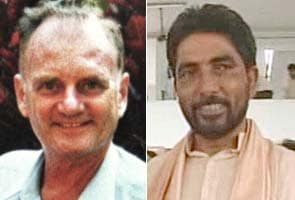 New Delhi:
The Supreme Court today expunged its remarks in the Graham Staines killing case.
The remark expunged relates to Dara Singh's motive for killing Australian missionary Graham Staines and his two minor sons in Orissa in 1999. It was made by the Supreme Court in its January 21 judgement that held life sentence for Dara Singh now stands deleted.
The court has also withdrawn the term conversion and said there is no justification to interfere in someone's belief by any means.
The Staines family was burnt alive in Keonjhar. Graham Staines had worked with leprosy patients in Orissa for 30 years. He was sleeping with his sons, aged 8 and 10, in a car on their way home on a cold January night. A mob in Manoharpur village poured petrol over the Staines' car and set fire to it.
The Staines tried to escape, but a mob of about 50 people allegedly prevented them.
In 2003, a trial court in Khurda convicted all 13 accused. While Dara Singh was awarded the death sentence, the others were sentenced to life in prison. In 2005, the Orissa High Court commuted Singh's sentence to life. The High Court convicted Hembram along with Singh, and acquitted 11 others.