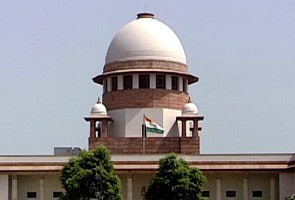 New Delhi:
The Supreme Court today declined to stay the Gujarat High Court's February order, in which it had rejected the Narendra Modi government's contention that the Centre's pre-matriculation scholarship scheme for students from minority communities was discriminatory.
In a majority decision, the Gujarat High Court had upheld the constitutional validity of the scheme and directed the state government to implement it. The Modi government then approached the Supreme Court.
The Centre's scheme, applicable in all states, is for students belonging to five religious minorities, including Muslims, whose parents earn less than Rs. 1 lakh annually. The Central government pays for 75 per cent of the scholarship amount and states are expected to pick up 25 per cent of the tab.
In today's hearing, the Gujarat government argued that the Centre's scholarship for minorities is a scheme based on religion and the Centre cannot compel the state to implement it.
Gujarat also argued that the state already has a similar scheme for all poor students irrespective of their religion and that the Centre's scheme amounted to discrimination based on religion.
While declining to stay the High Court's order, the Supreme Court said it has to view the matter through the Centre-state relationship prism and issued notice to the Centre, asking it to respond to Gujarat's contention that the scheme is discriminatory. The case will next be taken up in the first week of August.
It was Congress leader Adam Chaki who had first filed a Public Interest Litigation in the Gujarat High Court, asking it to direct the state government to implement the Centre's scheme.
Get Breaking news, live coverage, and Latest News from India and around the world on NDTV.com. Catch all the Live TV action on NDTV 24x7 and NDTV India. Like us on Facebook or follow us on Twitter and Instagram for latest news and live news updates.