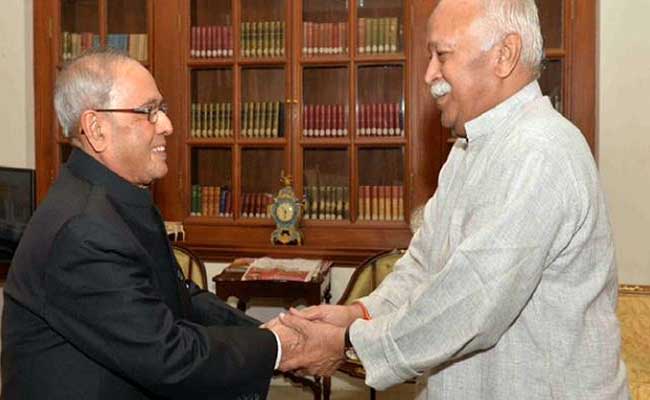 Highlights
Pranab Mukherjee agreed to address event at RSS headquarters in Nagpur
Ex-railways minister CK Jaffer Sharief urged him to revisit his decision
Congress said party would not comment on Mr Mukherjee's decision
New Delhi:
The Congress has declined to comment on former president Pranab Mukherjee's acceptance of an invite to be the chief guest at an event of the RSS, the ideological mentor of the ruling BJP. That cautious approach, however, did not stop a senior Congress leader from writing to the former president, urging him to revisit his decision, which he said, had stunned many people in the Congress and beyond.
Former railways minister CK Jaffer Sharief, who had recently met Mr Mukherjee to invite him for a book release function, wrote that he was unable to understand the "compelling reasons" for travelling to the RSS headquarters in Nagpur.
"It shocked us so we wrote, we asked him as to what prompted him, why is he suddenly going," the former minister later said, explaining why he had written the letter.
"We thought he was maintaining 'no-allegiance' stance to any party, as it is after one becomes President," he said.
The letter was made public within hours of sending it across to the former president's office.
Mr Sharief's stand was, however, a sharp contrast to the one that he appeared to take 13 months ago.
Mr Sharief had written to Prime Minister Narendra Modi in April 2017 to support RSS chief Mohan Bhagwat's nomination as the President.
He had then explained his recommendation, arguing that Mr Bhagwat might belong to a different school of thought in India "but there should not be any doubt about his patriotism, love for the people of India, loyalty to the nation".
Congress president Rahul Gandhi routinely
accuses the organisation
of trying to divide the country on religious lines and trying to run the government by remote control.
Congress spokesperson Tom Vadakkan told reporters that the Congress would not comment on Mr Mukherjee's decision to accept the invite to the June 7 event.
"The event has not happened... am collecting further details. At present I have no comments to offer till the event takes place," he said.
Union minister Nitin Gadkari described Mr
Mukherjee's acceptance of the invitation
as a "good start".
"Political untouchability is not good," Mr Gadkari said.
The RSS said the likes of Mahatma Gandhi and Jaiprakash Narayan have attended its functions in the past.
Mr Vadakkan said there is a lot of difference between their ideology and that of the RSS and never shall there be any compromise on that.
Asked about the RSS statement that even Mahatma Gandhi has attended the Sangh headquarters, the Congress leader said "everyone knows about the specialisation of the RSS and the BJP on history. I would not comment on it".
Mr Mukherjee, who has been a Congress veteran, has been invited to be the chief guest at the valedictory function of Sangh Shiksha Varg -- a training camp for the Rashtriya Swayamsewak Sangh volunteers -- at the RSS headquarters in Nagpur, scheduled on June 7.