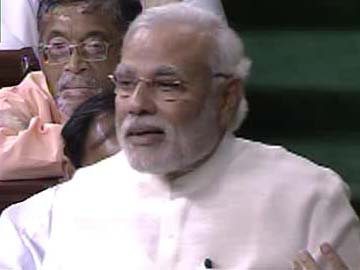 New Delhi:
Prime Minister
Narendra Modi
urged lawmakers on Wednesday to work together to protect women in his first comments on the issue since the horrific gang-rape and murder of two young girls last month in Uttar Pradesh. (
Watch
)
Mr Modi warned lawmakers against "politicising rape", saying they were "playing with the dignity of women" in his first speech to Parliament since sweeping to power in last month's elections. (
Let's Change 'Scam India' Image to 'Skilled India' Says PM Modi
)
He singled out the rape and murder of the two girls in Uttar Pradesh, where a political row has erupted as anger mounts over the state government's handling of the attacks.
The girls, aged 14 and 15, were found hanging from a mango tree in their village with tests showing they had been raped multiple times. Their families claimed the police initially failed to take action because they were from a low caste. (
Prime Minister Narendra Modi's Emphasis on 'Rurban'
)
"Stop analysing the psychology behind rape. The dignity of our mothers and ours sisters must be protected," the PM said today. "Does it suit us to make comments on such incidents, can we not be quiet? We are playing with the dignity of women," he said. (
Am New to Parliament, Forgive Mistakes When I am Speaking, Says PM Modi
)
The appeal comes after a string of politicians including from his own party, the BJP, made controversial comments over the attacks on the two girls which further inflamed public anger.
A minister from Chhattisgarh, where the BJP is in power, said on the weekend that "these kinds of incidents happen accidentally". (
Rate PM Modi's speech here
)
Last week, a minister from Madhya Pradesh, also governed by the BJP, said rapes were "sometimes right, sometimes wrong."
"Respect for women, their security - it should be the priority for all 1.2 billion people," the PM said in parliament today.