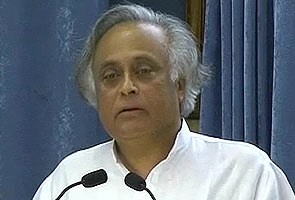 New Delhi:
People of 67 per cent households in rural India defecate in the open and several states "fudge" data on building of toilets, the government told the Rajya Sabha today.
Drinking Water and Sanitation Minister Jairam Ramesh said during Question Hour that if states were to be believed 60 per cent households in rural India have already been provided toilets but according to 2011 Census over 33 per cent have the facility.
"There is a lot of fudging of data, many states are taking money but not building toilets," he said.
Admitting failure in making the country free from open defecation, he said the railway system "is open sewage".
In next five years, 50,000 rail coaches will be fitted with bio-digestible toilets instead of present open sewage, he said.
Ramesh said Sikkim has become the first state in the country to be free from open defecation while Kerala would achieve the status by November. Himachal Pradesh will fall in that category by March 2013 and Haryana by March 2014.
"In other states, we have a very, very long way to go. We will not be able to make India free from open defecation by 2022," he said, but added, "We are making an honest effort."
Ramesh said the Centre is engaged in discussions with state governments on providing sanitary napkins to adolescent girls in rural India as part of sanitation programme.