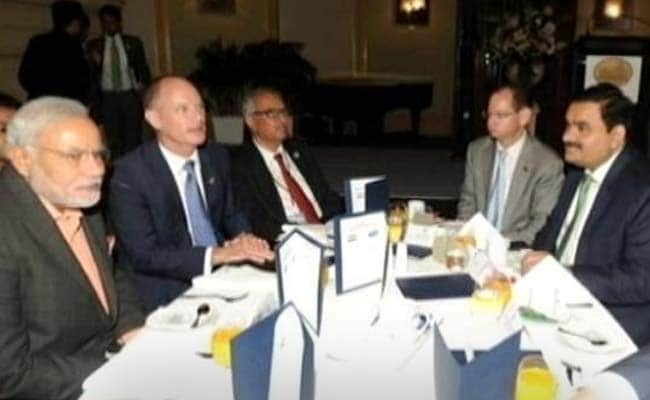 Melbourne:
The Adani group won support on Monday from India's largest public sector bank and an Australian state to help it build a $ 7 billion coal mine, rail and port project, defying a slump in coal prices that has stalled rival projects.
The Indian trading and infrastructure conglomerate signed a memorandum of understanding to line up a loan of up to $1 billion from the State Bank of India for the Carmichael mine in Queensland, which it aims to build by the end of 2017.
"The MOU with SBI is a significant milestone in the development of our Carmichael mine," Adani Group Chairman and founder, Gautam Adani, who is part of the business delegation that accompanied Prime Minister Narendra Modi to Brisbane for the G20 summit.
The company also won a commitment from Queensland to take short-term, minority stakes in rail and port infrastructure needed to unlock massive coal reserves in the untapped Galilee Basin. Coal from the region must be sent 400 km by rail to Australia's east coast.
"We are bringing on board valued partners in different facets of this integrated project, ensuring we will meet our guidance of first coal in 2017," Adani Mining CEO Jeyakumar Janakaraj said in a statement.
No final investment decision has been made on the Carmichael project.
Australia's federal and Queensland governments are eager to see the mine built following the loss of more than 4,000 coal jobs over the past two years.
Adani, which is also facing protests from anti-coal campaigners, is counting on lining up funding from South Korea, having named POSCO Engineering & Construction Co Ltd as the preferred contractor to build its rail line.
Adani's apparent momentum on the Carmichael project is in stark contrast to GVK's slow progress on another huge coal mine in the Galilee Basin, the Alpha project, which is co-owned by Australian billionaire Gina Rinehart.
Much bigger coal rivals, like BHP Billiton and Glencore, have also shelved coal developments in Queensland at a time when a third of Australia's coal output is making losses.
© Thomson Reuters 2014