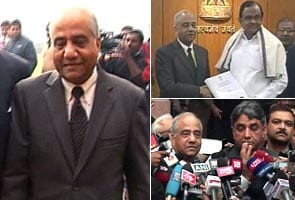 New Delhi:
Will a new state of Telangana be carved out of Andhra Pradesh?
Justice B N Srikrishna has handed over his report to the government - 10 months after he was appointed head of a special committee to talk to different political parties and "all sections of society."
(Read: Telangana report will show the way forward, says Duggal)
Home Minister P Chidambaram who received the report said he will consult with the eight major political parties of Andhra Pradesh on January 6 before the report is made public. Mr Chidambaram appealed to the people of Andhra Pradesh to help maintain peace.
In the state, huge security has been organised to prevent violent reactions to the report.
(Watch: Chidambaram on Telangana report)
The Centre has sent thousands of security personnel to help the state government. Acknowledging local resistance to this, Mr Chidambaram described the move as a precautionary measure.
(Read: Andhra Pradesh waits for Telangana report)
Earlier this week, Justice Srikrishna, a former Supreme Court judge, said that he believes his report offers "a permanent solution" to the divisive Telangana debate. He said it is up to the Centre to decide what happens next. But sources say that the report offers four options, and lists pros and cons for each, along with how resources like water would be affected. The committee has not indicated which solution it favours. It evaluates a united Andhra Pradesh, an autonomous state of Telangana, and the trifurcation of the state into Andhra, Telangana and Rayalaseema. The document reflects the strong emotional support for Telangana that the five-member committee encountered as it toured Andhra Pradesh. (
Watch - Srikrishna Committee's Andhra formula: Sources
)
The issue of a Telangana state saw violent and daily protests earlier in the year. In December 2009, Home Minister P Chidambaram announced that the process would begin for creating a new state.
The Centre had been advised by parties in Andhra Pradesh that they supported the Telangana cause. However, Chidambaram's announcement resulted in a massive backlash, forcing those same parties to reverse their support. In Andhra Pradesh, politicians from non-Telangana regions threatened to resign if the state was split. The Centre then set up the Srikrishna Committee to travel to all districts of Andhra Pradesh to gauge what people really want.
The report allegedly does not recommend whether or not a new state should be marked out. Instead, it indicates the pros and cons of different options available to the Centre.
Political parties from Andhra Pradesh now have a tough balancing act to perform. The two major parties- the Congress and Chandrababu Naidu's TDP - are split right down the middle because they have representatives from Telangana and non-Telangana regions.
Actor-politician Chiranjeevi's PRP stands for a unified Andhra Pradesh. K Chandrasekhar Rao's TRS has frontlined the campaign for a new state. Lately, KCR, as he is known, has expressed his admiration and support for Jagan Mohan Reddy, who recently quit the Congress and plans to form his own party.
Jagan's father, former chief minister YSR Reddy, was not close to KCR. However, analysts say that if Jagan and KCR team up, they could provide a formidable third front in Andhra Pradesh. KCR would bring the support of Telangana voters, while Jagan Mohan, capitalising on his late father's massive popularity, may catch the interest of voters in coastal Andhra and Rayalaseema.