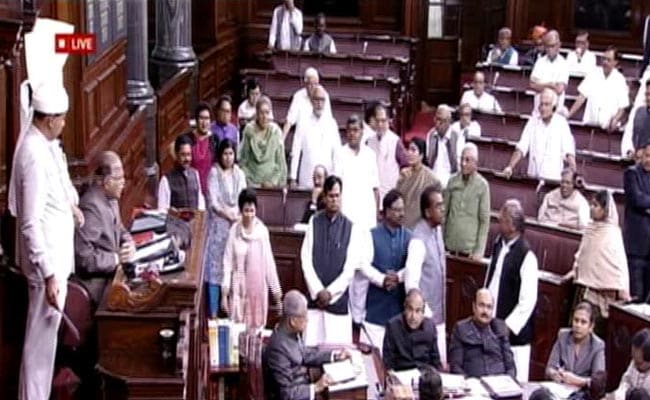 Highlights
Opposition attacks govt in parliament over Sri Sri event on Yamuna bank
Finance Minister Jaitley: Will the matter be heard here or green court?
Green Tribunal today gave a go-ahead to the event but with conditions
New Delhi:
The government faced opposition anger in Parliament today over the mega festival organised by Sri Sri Ravi Shankar's Art of Living on the banks of the river Yamuna.
Hours before the three-day World Culture festival, set to open on Friday, was given the go-ahead by the National Green Tribunal with fines and conditions, opposition members confronted the government in the Rajya Sabha.
"I am not against any cultural festival. But the question arises, what about environment, biodiversity and ecology of this country?" questioned Congress leader Ghulam Nabi Azad.
Union Minister Arun Jaitley shot back: "Will the matter will be heard here or the NGT (National Green Tribunal)?"
Over 1,000 acres on the Yamuna banks have been converted into a makeshift village for the festival that will feature yoga and meditation sessions, peace prayers and cultural performances.
A seven-acre stage has been set up for over 35,000 artistes and visitors from 150 countries. Art of Living has denied any major construction on the river banks but temporary bridges and mobile towers have been built and dirt tracks and a parking area are also coming up, according to a blueprint accessed by NDTV.
Union Minister Mukhtar Abbas Naqvi said: "All functions have been given all clearances. As far as Sri Sri Ravi Shankar is concerned, he has launched a campaign to clean the environment in the country. He has started a programme to clean the Yamuna. We should not question his intention."
Members also questioned the use of official resources for the function.
"Can the Indian Army be roped into building two bridges leading up across the Yamuna? I think it's highly irregular that the army is used to build bridges for a private event," said Left leader Sitaram Yechury.
The Green Tribunal, hearing a petition that cites lasting damage to the fragile ecosystem of the Yamuna river, questioned who cleared the event.
Mr Azad said: "Why was no environment clearance taken? The tribunal asked who gave the permission to build bridges over the Yamuna? All construction over the Yamuna will be deemed illegal. Has that been take into consideration?"