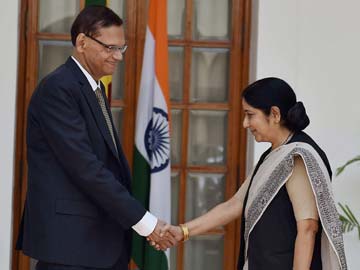 New Delhi:
Sri Lanka's Foreign Affairs Minister, G L Peiris, is in India on a three-day visit. Today, he met External Affairs Minister Sushma Swaraj over lunch where Mr Peiris reiterated president Rajapakse's invitation to PM Modi to visit India.
This was the second high-level engagement between the two neighbours after Sri Lankan President Mahinda Rajapakse attended Prime Minister Narendra Modi's swearing-in ceremony in Delhi on May 26.
The two ministers discussed the fishermen issue between the two countries. Indian Fishermen, fishing in Palk Bay, are struggling to catch fish in the Indian Ocean and often get arrested by Sri Lankan officials for venturing into, what Lanka calls its terriroty. The fishermen, however, say they have been traditionally fishing in these waters.
During Mr Peiris' visit, the issue of Tamils' rights in Sri Lanka is also expected to be brought up. According to the peace accord signed between the two countries in 1987, Sri Lanka agreed to devolve powers to the provinces. But the island nation hasn't yet devolved police and land powers to the Tamil dominated northern province. NDTV has learnt this came up in the meeting between Mr Rajapakse and Mr Modi when the two leaders met.
The issues are the same, but question is: will the new government come up with different and better solutions?
Amidst a spate of visits by Western leaders and business delegations, India's neighbours, the government maintains, is a priority.