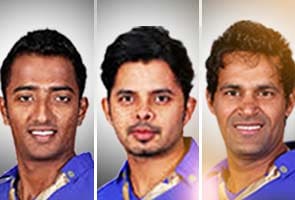 New Delhi:
IPL franchise Rajasthan Royals has suspended the contracts of its three players arrested for alleged spot-fixing in the on-going season of the cricket league, pending inquiry.
"Based on the information provided by the authorities, the contracts of all three players have been suspended pending enquiry... We have already filed a complaint with the Delhi Police against all three players earlier today," Rajasthan Royals said in a statement today.
(Read full statement)
The franchise had, earlier today, filed a First Information Report (FIR) against the three tainted players for violation of contract. Sreesanth, Chandila and Chavan were arrested on Thursday.
The statement also said that "the franchise is in daily contact with the police authorities in Delhi, Jaipur and Mumbai for providing any cooperation/information that they might require." Sources had earlier said that officials from Rajasthan Royals might be questioned as part of the probe.
The three players are currently in the custody of Delhi Police, and were interrogated for the fourth day today. Yesterday, they were questioned together for the first time and while, all three confessed to their crime, they blamed each other for dragging them into spot-fixing, according to sources. However, these confessions are not admissible in a court of law as they have not been recorded before a magistrate.
The police have also collected their voice samples. They will now match the samples with the conversations between the players and the bookies it has recorded.
The police says it has enough evidence to make a strong case against the three arrested players. It is also probing a wider nexus, which it alleges, is linked to Dubai and Pakistan.