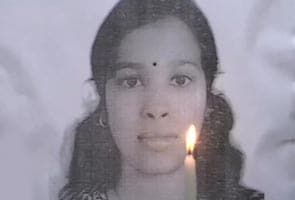 Thrissur:
At 23, Soumya was the pivot of her family's present and future.
Her father had left them five years ago. Her mother who was sick couldn't afford to give up her job as a domestic helper. Her brother was a driver. And when Soumya was offered a job as a sales girl at a shopping mall in Kochi, she decided to abandon her course in hotel management.
So she boarded a train from Thrissur, after accepting the job on December 29 last year, and hoped she was headed into a world that would at the very least give her her due.
For one and a half months, she travelled once a week between her home and Kochi. On a Tuesday night, she was headed home to consider a marriage proposal. Fifteen minutes away from Shoranur, she looked up to see a 33-year-old man entering the Ladies Compartment that she was travelling in. There were no other passengers.
It was late at night, and the man tried to rob her. When she fought back, he pushed her out of the open door of the compartment. Then, near the railway tracks that had crisscrossed her routine, he raped her. After a few minutes, he abandoned her.
A passenger informed the train guard that he saw two people jump out of the train. The guard then informed the Vallathol Nagar Railway Station, and the staff there rescued Soumya who was unconscious. She was immediately rushed to Med College Hospital in Thrissur, as she had a deep wound in her head and was bleeding profusely.
After six days in Intensive Care, she died on Sunday. We meet her mother, Sumathi, in the home that Soumya loved returning to. "She had very big dreams. She used to say that she wanted to get a top job in a bank and she said she would buy a car for us," she recalls.
The man who raped her daughter has been arrested and is in remand till February 10.
After leaving Thrissur, we board the same train that Soumya used to travel on to get to work in Kochi. In a compartment reserved for women, I am one of two men. There's nobody else. No guard comes around on a security check.
Soumya's death made the headlines, but in compartments like this one, women must still fend for themselves.