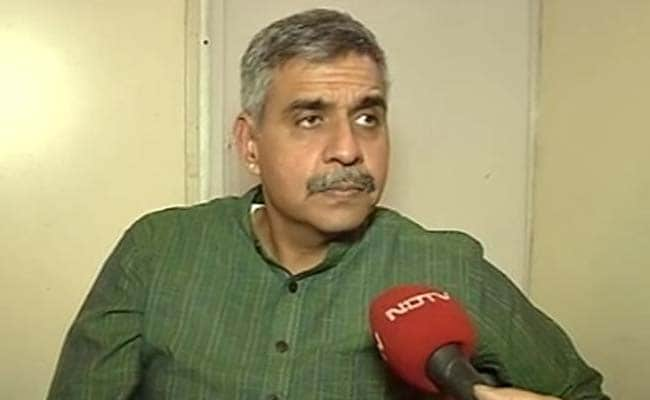 New Delhi:
Amid talk that Rahul Gandhi could soon become Congress president, party spokesperson Sandeep Dikshit today said Sonia Gandhi is the "leader" for "99 per cent of" partymen and she is needed at the helm at this time more than ever in the past.

"For 97 to 99 per cent of Congressmen, their leader is Sonia Gandhi and there is no doubt about this fact," he said in an interview.

Making it clear that he was speaking in his personal capacity, Mr Dikshit insisted that "I am not against anybody. We need Sonia Gandhi as our leader".

The refrain of Mr Dikshit, a two-time MP and the son of former Delhi Chief Minister Sheila Dikshit, was that "Sonia Gandhi can transfer presidentship of the party to anyone, bequeath the presidentship to anyone she wants, but she cannot bequeath her leadership to anybody she wants".

Mr Dikshit said "when opposition needs a coalition of forces, she is the most credible leader".

The Congress chief had recently led a march of opposition leaders to the Rashtrapati Bhawan on the land bill issue.

Besides, Mr Dikshit said that no one doubted her secular and left of the centre credentials.

"After the defeat of 2014, she has taken us back to popular form of politics. Street politics with a topic that catches imagination of almost all Indians," Mr Dikshit said, adding that "no one in the Congress today has the same sense of timing, capability to organise, capacity to assimilate everybody" as Sonia Gandhi.

"When elections are held in the Congress, we need her and only her as Congress President and leader. The need for her today is more than in 1998," he insisted.

"She is my leader," he said, adding as of today, Sonia Gandhi is the "only leader" who has the capacity to build Congress into a political unit.

"She is much more in consonance with Congress thinking and ideology. Most Congressmen are comfortable working with her and nobody else. She understands and is able to pick up political issues. She understands which is a political issue and which is a party issue. You win elections through political issues and not party issues. She has a great capacity of assimilation and putting things together and you can reach out to her," he said.

Recalling her contribution since taking over as party chief in 1998 when the party was in a state of collapse, Mr Dikshit said that she almost singlehandedly won the 2004 elections.

Sonia Gandhi also maintained a "balanced equation" between government and the party, Mr Dikshit said adding that "I personally feel that she was much more liberal than she should have been".


The remarks of Mr Dikshit come at a time when Rahul Gandhi, the party Vice President, is expected to be back soon from his "leave of absence".
There is talk that he could become Congress President as early as May despite the fact that the schedule for organisational elections including for the President's post is out. Reports have spoken about the possibility of a meeting of the Congress Working Committee and a meeting of the All India Congress Committee (AICC) either at Delhi or in party-ruled Himachal Pradesh or Uttarakhand in May is being talked about for the purpose.
Senior leaders say that the issue of Congress President will gain momentum after the return of Mr Gandhi. Party Chief Sonia Gandhi told the media in Amethi last week that Mr Gandhi will be "back soon".
Party leaders insist that after his likely return next month from the mysterious sabbatical, Mr Gandhi is expected to take a call on when to assume the party's mantle and the earlier he does it, the better it will be.
If the Congress Vice President decides to become party chief, then Sonia Gandhi will continue to remain the Chairperson of the Congress Parliamentary Party and will lay focus on the Parliamentary work.
Rahul Gandhi was made the Congress Vice President in January 2013 at the Jaipur Chintan Shivir.
There had been speculation that Mr Gandhi could be anointed any time as Congress President but his going on leave just on the eve of the commencement of the budget session last month had raised questions over his future plans.
Sonia Gandhi has created a record of having the longest tenure at the helm of the oldest political party when she completed 17 years as Congress President on March 14.
She took the top party post amid a complete collapse in 1998 replacing the late Sitaram Kesri at a time when the party had faced a crisis with the BJP in the ascendance.
The Congress suffered its worst debacle in the Lok Sabha polls in May 2014 after being at the top for a decade since coming to power in 2004.
It could manage just 44 seats in the last Lok Sabha elections.
A schedule for organisational elections under which the next Congress President will be elected by September 30 was released by the AICC about a fortnight back.