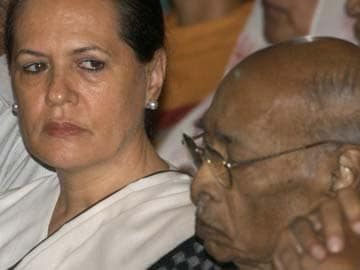 New Delhi:
Congress President Sonia Gandhi and late party leader PV Narasimha Rao had strained relations when he was the Prime Minister as she was unhappy over the slow pace of progress in the probe into her husband Rajiv Gandhi's assassination, says a book written by a union minister.
When Mrs Gandhi chose to go public with her unhappiness over the probe in August 1995, it was a build-up to what she would choose two years later to enter active politics, says Union Food Minister KV Thomas in his book 'Sonia - The Beloved Of The Masses'.
The fact that Mrs Gandhi and Mr Rao did not share an easy relationship was also confirmed by former minister Natwar Singh, who recollects how the former prime minister called him one night in May 1995 to say how he had been "insulted" by her.
Referring to a speech made by Mrs Gandhi on August 20 1995 on the birth anniversary of Rajiv Gandhi, Mr Thomas says in his book that her words had pained the entire nation.
"That was why Sonia, who was not close to Rao, pointed an accusing finger at the government. Aggrieved about the inordinate delay in Rajiv's assassination probe, she asked if the investigation related to the killing of a former prime minister was to take so much time, what would be the fate of ordinary citizens who fights for justice?"
Mr Thomas further says it could not be construed in a simplistic way as a statement against the slow pace of the process of meting out justice. "When Congress was in power, a broadside from Sonia was indeed a censure of Narasimha Rao," he writes.
Mrs Gandhi believed so long as Mr Rao remained in power, the probe into her husband's death would reach nowhere, Mr Thomas says in the book.
"Her conviction was some other agency might have masterminded the murder and engineered it through LTTE. It was circumstances which pushed Sonia into politics. How could she remain witness when the edifices of the party were crumbling," he says.
Writing in a daily last week, Natwar Singh recalls from his diary notings of May 13, 1995 when Mr Rao called him to his Race Course Residence at night.
"Around 9 PM P.V. walked in, he did not sit down. The normally imperturbable P.V. appeared flummoxed and agitated: 'I have just received her letter to me?' I said I have not seen it. The two were apparently having an epistolary war regarding the trial of Rajiv Gandhi's assassins."
Mr Singh says what Mr Rao said next was so unexpected that he was dumbfounded. "I cannot take her on. I could. I don't want to. What does she expect me to do?" the former prime minister had said.
A junior minister in Mr Rao's cabinet with whom he developed differences later, Mr Singh suggested he meet Sonia Gandhi.
"How often do I see her? It is a question of my self-respect. Her attitude is affecting my health. How many times do I have to be insulted?" the former PM said, according to Mr Singh.
Mr Singh told Mr Rao that he had never discussed him with Mrs Gandhi but he got the impression that she felt the question of the trial of her husband's assassination was not proceeding fast enough.
He recalled that Mr Rao told him of all the steps taken by the government including making P Chidambaram in-charge of the assassination probe. "If she thinks my leaving will improve the matter, I am willing to go," he said.
Get Breaking news, live coverage, and Latest News from India and around the world on NDTV.com. Catch all the Live TV action on NDTV 24x7 and NDTV India. Like us on Facebook or follow us on Twitter and Instagram for latest news and live news updates.