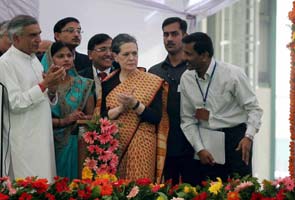 Raebareli, Uttar Pradesh:
Congress President Sonia Gandhi flagged off the first set of coaches from the modern Rs 1,685 crore rail coach manufacturing factory inaugurated by her on Wednesday in her Raebareli parliamentary constituency.
The project was commissioned a few weeks after the Congress got the Railway Ministry back after nearly 16 years, a portfolio last held by former ally Trinamool Congress before its pullout of UPA in September.
The foundation stone for the Railway Coach Factory (RCF) which is the biggest project in Rae Bareli and the third in the country was laid in January 2009 just before Lok Sabha polls and the then BSP government in Uttar Pradesh had termed it as a "political gimmick" on the eve of polls to gain political mileage.
"I here want to mention those who spread rumours against the project. But it has been completed in such a short time", Ms Gandhi said at the inaugural function at RCF in Lalganj.
The land for the project was initially denied to the Railways, which had then blamed the BSP government for delaying the start of project.
Stating that the factory would not only generate employment opportunities for locals but also ensure development of the area, Sonia said full compensation was given to farmers by the railways for their land.
"The regional industries are likely to grow and locals will find new employment opportunities", she added.
Before flagging off 20 coaches produced in the factory which would be used in Rajdhani and Shatabdi trains, Sonia inspected them and said she was feeling elated.
"Railways on which 1.5 crore passengers travel every day is crucial for the economy of the country. It is the biggest employer in which over 15 lakh employees work", Ms Gandhi said in the presence of Railways Minister Pawan Bansal. "I have seen how people in far away places in Jammu and Kashmir were enthused when the service started there", Ms Gandhi added, trying to highlight its importance.