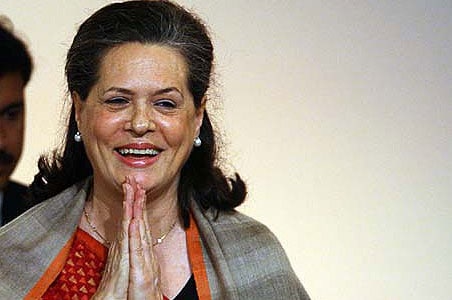 Chennai:
Congress president Sonia Gandhi has put off her election rallies in Chennai and in Puducherry scheduled for Wednesday in view of hospitalisation of Tamil Nadu Chief Minister M Karunanidhi, a top Congress leader said.
Senior Congress leader Ghulam Nabi Azad told reporters that he visited the DMK president, who is undergoing treatment for fever at Apollo hospital since Sunday, and doctors had advised him not to participate in the meetings.
"Doctors advised him not to participate in the meetings, citing his health condition...Madam (Sonia Gandhi) wants to share the dais with Karunanidhi...therefore the rally has been postponed. The new date will be announced soon," he said.
However, police sources cited security reasons also for change in schedule, as pro-Sri Lankan Tamil outfits had threatened to stage demonstrations and show black flags to Gandhi over UPA's alleged failure to ensure a ceasefire in Sri Lanka.
Ever since the Sri Lankan Army intensified its offensive against LTTE and confined it to a small strip of land in the embattled northern part, pro-LTTE outfits have been staging demonstrations, demanding an immediate ceasefire.
Gandhi was originally scheduled to arrive in Chennai, fly to Puducherry and return here to address a joint rally later in the afternoon in support of Congress and DMK candidates for the May 13 Lok Sabha polls.
Under an electoral pact, DMK, a constituent of UPA, has allotted 16 seats to the Congress, including the lone seat in neighbouring Puducherry.