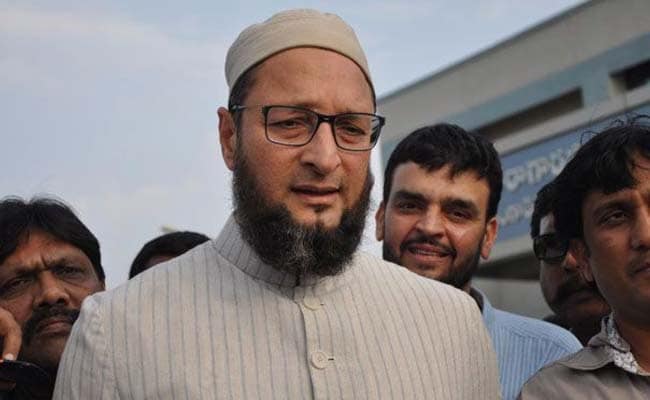 Hyderabad:
The All India Majlis-e-Ittehad-ul Muslimeen (AIMIM) president Asaduddin Owaisi today alleged that Moulana Salman Hussaini Nadvi is acting at the behest of Prime Minister Narendra Modi to create rift in All India Muslim Personal Law Board (AIMPLB).
He also called for social boycott of those calling for giving up Babri Masjid.
"Some people are dancing to the tune of Modi," said the Hyderabad MP without naming Mr Nadvi, who was removed from the board yesterday for mooting a proposal to handover the land of demolished Babri Masjid in Ayodhya for construction of Ram temple.
Addressing a public meeting organised by the board at the end of its three-day plenary, Mr Owaisi launched a bitter attack on Mr Nadvi for going against the board's stand that there can be no compromise on Babri Masjid.
On the eve of the 26th plenary which began on Friday, Mr Nadvi met Sri Sri Ravi Shankar in Bengaluru and mooted the formula that the land on which Babri Masjid stood till December 6, 1992, should be handed to Ram temple in exchange for an alternate land to build a mosque and a university.
"He (Nadvi) is saying that his proposal is to ensure peace and unity in the country. Should we also give up Masjid-e-Aqsa (Al-Aqsa mosque in Jerusalem) for unity in Arab," asked Mr Owaisi.
The lawmaker claimed that Mr Nadvi was one of the clerics who signed a 'fatwa' in 2001 that a mosque remains a mosque for eternity and hence Muslims can't give up Babri Masjid.
He also alleged that Mr Nadvi had also given a fatwa in support of terror group ISIS, which is responsible for massacre of Muslims in Syria, Iraq and other countries. "
"Modi, you are giving political patronage to those who had given fatwa in favour of IS," said Mr Owaisi.
He said the prime minister and those dancing to his tunes will not succeed in their attempts as the board is a symbol of Indian Muslims and united platform of all Islamic schools of thought.