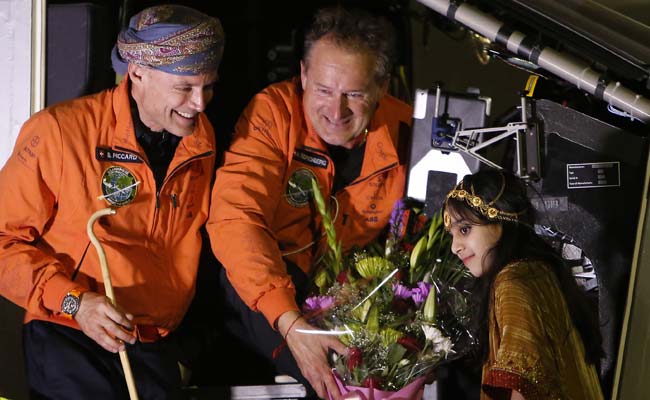 Ahmedabad:
As the fuel-free aeroplane Solar Impulse-2 gets energy from the sun, its pilots energise themselves by doing yoga to remain mentally and physically fit during their long flight hours.

For pilots Andre Borschberg and Bertrand Piccard of the single-seater Solar Impulse-2, which is on historic trip to fly around the world, it is important to sustain themselves for 12 to 15 hours without taking a break while flying between destinations, to energise themselves they have chosen yoga.

Both the pilots have been practising yoga for last 12 years under the guidance of Indian yoga guru Sanjeev Bhanot to safely take on their first round-the-world trip on SI-2.


The plane, claimed to be the world's only solar-powered aircraft, landed in Ahmedabad on Tuesday night after a 15-hour flight from Muscat.
"We sleep for 20 minutes at every five hours during the flight. We also need to regain energy. For that, I started learning yoga 12 years back and have been practising it daily for the last 10 years. We also use yoga to stimulate our body and re-energise ourselves with the help of Yogi Sanjeev Bhanot," said Mr Borschberg, the 62-year-old Swiss pilot and CEO of the Solar Impulse project.
"The 20 minutes of sleep is necessary. During that nap, we leave the plane fly by itself by putting it on auto-pilot mode. Yoga helps in a different way, I practice yoga almost daily. It helps you think with a right mind, it helps in balance and breathing techniques and helps to re-energise," he said.
Mr Piccard, the 57-year-old initiator and president of the Solar Impulse project, said he practices self-hypnosis to connect with the inner-self.
"I self-hypnotise to connect with inner-self. That is because hypnosis is a way to connect with the inner side of yourself," he said.
"When you live normally, you look, you feel, you get distressed, but when you start looking inside yourself, you will disconnect from the uncomfortable situation of (outer world) and you can use your inner resources and inner energy," said Mr Piccard, who is also a psychiatrist.