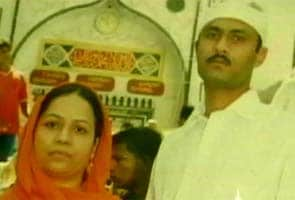 New Delhi:
In a huge setback for the Gujarat government, the Supreme Court today said that the case pertaining to Sohrabuddin Sheikh's fake encounter cannot proceed in the state.
"We have strong reservation about the trial to be conducted in the state", a bench comprising justices Aftab Alam and Ranjana Prakash Desai said. The observation came during the hearing of a plea filed by the Central Bureau of Investigation (CBI) - which is probing the case - to shift the trial of the encounter case outside Gujarat. It also wants former Gujarat Minister Amit Shah's bail - granted in October 2010 by the Gujarat High Court - to be cancelled.
Mr Shah, the former Home Minister, is accused of playing a key role in the fake encounter that led to the death of Sheikh. The latter, a petty criminal, was shot dead by the Gujarat Police in the outskirts of Ahmedabad in November 2005. The police originally claimed that he was a terrorist from the Lashkar-e-Taiba. But investigations suggest that he was killed for trying to blackmail powerful marble traders in neighbouring Rajasthan. The businessmen allegedly approached Mr Shah, who was then Home Minister of Gujarat, for help. The CBI contends that Mr Shah ordered Sheikh's assassination.
Meanwhile, the former minister's counsel and senior advocate Ram Jethmalani said that the top court should, in view of the upcoming assembly elections in Gujarat, lift the condition imposed on his client to keep himself out of the state. The BJP leader was directed by the Supreme Court to not enter the state during the bail period. "Don't keep him away from political activities," Mr Jethmalani said. He added that Mr Shah could be permitted to be in Gujarat under the strict surveillance of the CBI.
The case has also seen the Narendra Modi government come under the scanner for allegedly protecting Mr Shah and other senior cops who are also accused in the case. The Supreme Court had, in fact, slammed the state government late last year for not furnishing CDs of the call records of the former minister as also suspended IPS officer, DG Vanzara, who is a also an accused in the case.
Amicus Curiae Gopal Subramaniam, who is assisting the court in this case, argued that the CBI should also investigate the criminal nexus between the Gujarat police and the state government.
The bench has now posted the matter for further hearing on September 4.
(With inputs from PTI)