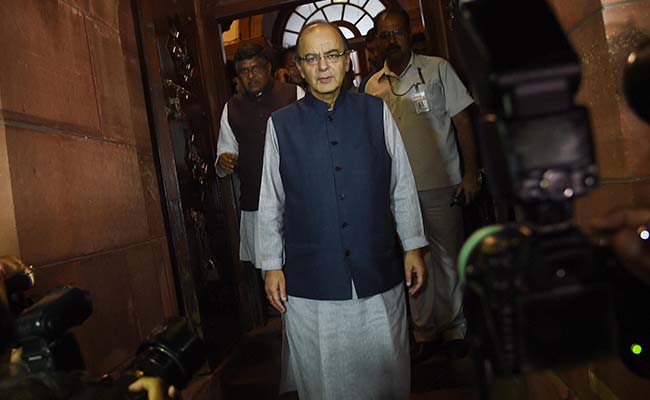 Highlights
Parliament clears GST, national Goods and Services Tax
State governments to work with Finance Minister on fixing rate
The tax rate will then be submitted for parliament's review
New Delhi:
India has cleared its
biggest tax reform in decades
- the parliament has approved amending the constitution for the Goods and Services Tax or GST, a national sales tax which subsumes a confusing mesh of tariffs.
The rate and scope of the new tax has not been defined yet. The main opposition party, the Congress, reissuing a warning that it must not exceed 18%.
"We will sincerely do everything to keep it (the GST) as low as possible," said Finance Minister Arun Jaitley, stating that a 17 to 19% rate will be considered.
When the debate on the GST bill began in the Rajya Sabha,
Mr Jaitley thanked opposition parties
for multiple rounds of negotiations that helped evolve consensus on the proposal. Through the day, the discussion was studded with good speeches and notes of appreciation and conciliation, rare in recent months between the government and the main opposition party, the Congress.
Senior Congress leaders led by former Finance Minister P Chidambaram were backed by smaller parties in asking that the GST rate must be voted on by both houses of parliament. The rate will be decided in the coming months by a council that combines the Finance Minister with a representative from each state government.
The Finance Minister highlighted that the GST Council's decision-making powers are skewed in favour of state governments and they will not allow over-taxation because "then they will lose the next election."
When the Council's GST recommendation is brought to parliament, Mr Chidambaram argued, it must be in the form of a Finance Bill and not a Money Bill.
While a Finance Bill is voted upon by both houses, a Money Bill cannot be rejected by the Rajya Sabha, which can only recommend changes to the proposal.
The government has a firm majority in the Lok Sabha. But it is in a minority in the Rajya Sabha, which is where opposition parties, especially the Congress, which has the most members in the Upper House, can block a proposal - or use their strength to force revisions.
The Finance Minister told the Congress he cannot commit to what form of proposal the GST rate will be presented in, because the government will examine and follow what the constitution recommends. "We will comply with the constitution and have no intention of bypassing what it lays out," he said before the bill was cleared.