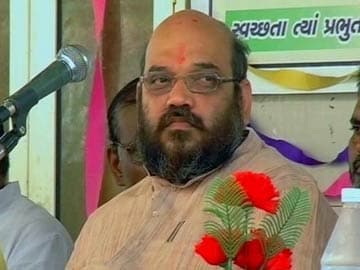 New Delhi:
The BJP has rubbished the allegation that Narendra Modi's close aide
Amit Shah
misused his powers and the state police as Gujarat's home minister for the illegal surveillance of a young woman in 2009. The Congress wants a CBI investigation.
On Friday, two websites, Gulail and Cobrapost, played what they said were taped telephone conversations between Mr Shah when he was Gujarat's minister of state for home and a senior police officer, GL Singhal.
On the tapes, a man, allegedly Amit Shah, tells another, allegedly Mr Singhal, to monitor the movements of the woman in Ahmedabad in Gujarat. The voice purported to be that of Mr Shah says the surveillance is being done at the behest of "Saheb" or master. The websites claim that these are recordings made by Mr Singhal, which he submitted to the Central Bureau of Investigation or CBI while being questioned in the
Ishrat Jahan
encounter case.
Narendra Modi
is the BJP's prime ministerial candidate and his party chief Rajnath Singh has accused the "dirty tricks wing" of the ruling Congress of scripting the new controversy to target Mr Modi ahead of national elections due by May.
"There is no question of doing a rethink on our prime ministerial candidate even if a thousand baseless allegations of this kind are made against Modi," Mr Singh said, responding to Law Minister Kapil Sibal's comment yesterday that the BJP will be forced to rethink its prime ministerial candidate.
Today, the Congress's Manish Tewari, also a union minister, said the alleged snooping was a "brazen assault on civil liberty by state sponsored stalking."
And his colleague Shakeel Ahmed tweeted: "For "Saheb" Amit Shah, then MoS Home, used cops to snoop on a young woman from Gujarat. Everyone asking who is the "Saheb"? Media speculating!"
Congress General Secretary Digvijaya Singh was more direct when he tweeted, "Modi and Amit Shah use Gujarat Police to spy on an innocent girl! Didn't Gujarat Police and then Home Minister violate the Law of the Land?"
Rajnath Singh has questioned the authenticity of the tapes and asked why they are being released now if they purportedly date back to 2009. He pointed out that website Cobrapost has said it cannot make any claims about the authenticity of the CD it aired.