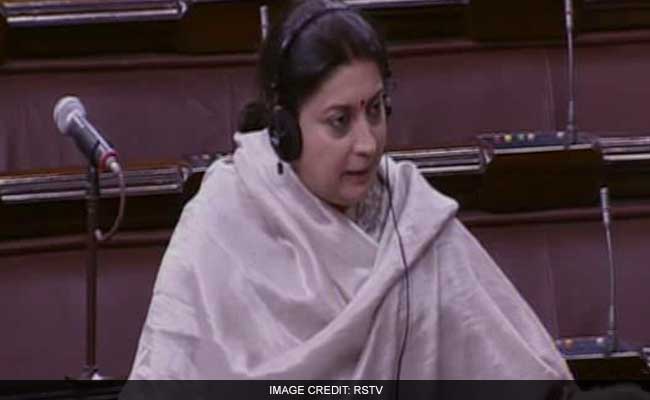 New Delhi:
Union Minister Smriti Irani, CPM general secretary Sitaram Yechury and Trinamool Congress leader Derek O'Brien are among the 10 leaders who would end their terms in Rajya Sabha, the Upper House of Parliament, in July and August. Elections for the seats, which lie across Bengal, Gujarat and Goa, will be held on June 8.
Of the 10 members, four are from Trinamool Congress, three from Congress, two from BJP and one from the CPM. The members, however, will be able to vote for the Presidential elections, which are due before July 24.
The term of Ms Irani is expected to end on August 18. Congress's Ahmed Patel and BJP's Dilipbhai Pandya will also end their terms with her. The tenure of members from West Bengal - TMC's Mr O'Brien, Debabrata Bandhopadhyay, Sukhenduhakhar Roy and Dola Sen and Congress's Pradip Bhattacharya, are also ending on August 18.
The parties are yet to announce future plans for these leaders.
Last September, Ms Irani -- who had vied with Congress vice-president Rahul Gandhi for the Amethi Lok Sabha seat -- had thanked the people of Gujarat, the state she represents, in a series of tweets.
On August 19, 2011, I got the opportunity to serve the nation in my capacity as Rajya Sabha Member of Parliament from the Gujarat state.

— Smriti Z Irani (@smritiirani) September 5, 2016
With one year to go before her term ended, it was not clear what prompted her to refer to the matter in the micro-blogging site. Days before she had been shifted to the textile ministry from the high-profile Human Resource Development portfolio.
"It has been my privilege to have been able to reach out to the people of Anand & resolve their problems in whatever capacity I could," Ms Irani wrote.
A third tweet had said "I specially express my gratitude to people of Gujarat, particularly Anand which is my nodal district as Rajya Sabha MP from the state". Along with her tweets, she had shared snapshots of the work she had undertaken in Anand district.