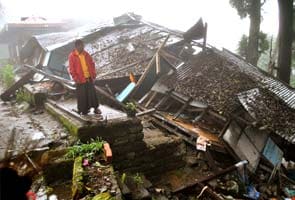 Gangtok:
26 people have died in India as a result of the earthquake that shook Sikkim last evening. Another 12 people have been killed in Nepal and Tibet. The earthquake that measured 6.8 on the Richer scale was centred on the Sikkim-Nepal border. One of the reasons why it resulted in so much damage is because it occurred at just 10 kilometres below the earth's surface.
For Sikkim, the morning after conjures up a bleak image. More than 100,000 buildings have suffered 50% damages. Another 1,000 buildings have suffered 70% damages.
Gangtok, the capital of Sikkim, has no water supply currently; it will take at least another 48 hours to restore connections. Electricity will also be unreliable. Supplies and relief are hard to send into Sikkim since National Highway 31, which links the state to the rest of the country remains blocked.
Most major government buildings and hospitals have been seriously damaged including the police headquarter and the government secretariat. The Chief Minister is left without an office.
Heavy rain has prompted landslides, further complicating rescue and relief plans.