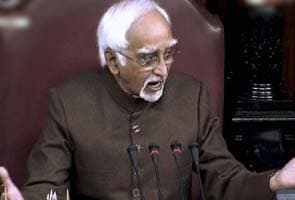 New Delhi:
Rajya Sabha Chairman Hamid Ansari has called for a Rules Committee meeting on Wednesday to discuss repeated disruptions of House proceedings. This follows a fierce admonition from Mr Ansari today, provoked by the customary shouting and indiscipline that was witnessed inside the House. "A situation has arisen in which the Chair has to watch helplessly the disruption of the Question Hour very frequently," he said.
The disruptions this morning were caused by opposition parliamentarians for two different reasons. Some want an urgent discussion on whether Wal-Mart lobbied in India for a reform that allows the entry of foreign supermarkets; others - mainly from the Samajwadi Party - protested against a possible discussion on a proposal that reserves promotions in government jobs for tribals and Dalits.
Visibly agitated by the chaos, Mr Ansari even suggested that the Question Hour could be dispensed with in view of the frequent disruptions.
"I propose two options...Question Hour should be moved to other part of day...Two, members do not seem to attach much importance to questions answered, the Question Hour should be
dispensed with all together," he said.
Yesterday, Ram Gopal Yadav of the Samajwadi Party vowed that his nine MPs would disturb the Rajya Sabha enough to ensure that the quota bill is not taken up for debate. He said even if this provoked suspension, his party would not compromise.
A large part of this winter session of Parliament has been squandered over the government's decision to allow Wal-Mart and others to sell directly to Indian customers. At the opposition's insistence, the government took a vote on its flagship reform to end several days of paralysis in both houses of Parliament. The government won the vote, but yesterday, a disclosure in the US that Wal-Mart spent Rs. 124 crore in the last four years lobbying for different agendas including the retail reform in India has precipitated new protests by the opposition, including the BJP and the Left.