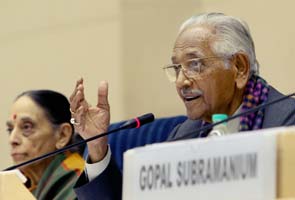 New Delhi:
The Justice JS Verma committee, a group of three legal experts set up amid massive protests over last month's gang-rape of a student on a Delhi bus, has proposed sweeping changes to existing laws for sexual crimes but has not recommended the death penalty for rapists.
In its report submitted on Wednesday, the committee has said the maximum sentence for gang-rape should be raised to a full life term, meaning convicts must spend the rest of their lives behind bars.
"We did not recommend the death penalty because we received overwhelming suggestions against it," said Justice Verma, who retired as Chief Justice of India. He also rejected calls for lowering the maximum age for juvenile offenders to 16 from 18, saying it would not help prevent crimes.
The committee said it has focused on preventing sexual crimes rather than just prescribing punishments. Justice Verma attributed the widespread abuse of women to government, police and public apathy. He said there had been a "shocking" lack of contributions to the panel's deliberations from the police.
The committee cited "the failure of good governance" and the poor implementation of existing laws, as it suggested major new changes including time-bound trials for rape cases and the need for stronger punishment for all forms of sexual harassment including stalking, and groping. The committee has also suggested a review of the Armed Forces Special Powers Act (AFSPA) in conflict areas so that sexual offences by those in uniform are brought under ordinary criminal law.
Justice Verma praised the massive demonstrations organised by thousands of young people after the 23-year-old student and her boyfriend were assaulted with unimaginable depravity on a Delhi bus in December. "Youth has taught us what we, the older generation, were not aware of. I was struck by the peaceful manner in which the protests were carried out...the youth rose to the occasion," he said.
(Read: Justice Verma panel recommendations)
After the gang-rape that outraged India, Delhi Police Commissioner Neeraj Kumar dismissed suggestions that he should accept responsibility and resign. The police was publicly praised by Home Secretary RK Singh for arresting six men who allegedly attacked the student. "I was shocked that the Police Commissioner got a pat on the back by the Home Secretary. I was so shocked. The least I would have done was to seek an apology for the failure of my duty to protect citizens," Justice Verma said.
The committee said that after it was appointed on December 24, it ensured its report was compiled swiftly so that it can be considered by Parliament in the next month's budget session. "A positive response from the government to our recommendations will be the real tribute to the memory of the gang-rape victim," said Justice Verma.