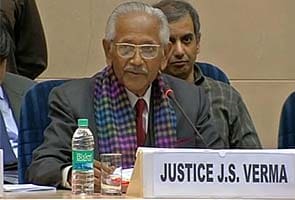 New Delhi:
The head of a commission assigned to review laws for sexual crimes thanked the country's youth for fighting for change after a young student was gang-raped on a bus in Delhi last month. "Young people are the real hope," said Justice JS Verma, "they have taught the older generation." (
Highlights of Justice Verma's press conference
)
Justice Verma, who retired as the chief justice of India, submitted his report to the government today and indicted the government and senior police officers for their response to the heinous attack on Amanat (NOT her real name).
"I was shocked that the Police Commissioner got a pat on the back by the Home Secretary. I was so shocked. The least I would have done was to seek an apology for the failure of my duty to protect citizens," said Justice Verma.
Days after the gang-rape, Home Secretary RK Singh had lauded the police for arresting six men who allegedly attacked the student.
Justice Verma said that "the failure of good governance" allows incidents like the heinous attack on the student, and is responsible for the palpable public anger that has followed. He said that the police proved its disinterest in reforms or change because the senior most officers from each state - Director Generals of Police (DGP) - did not respond to his committee's queries.
The three-member commission completed its review of existing laws and prepared its report within a tough 30-day deadline.
Justice Verma said he received 80,000 suggestions from India and abroad after he set January 5 as a deadline for receiving comments from the public. "If we can do what we did in thirty days, then the government should be able to do the same with all its might and resources," he said, urging parliament to take up the report and its proposals urgently.
Get Breaking news, live coverage, and Latest News from India and around the world on NDTV.com. Catch all the Live TV action on NDTV 24x7 and NDTV India. Like us on Facebook or follow us on Twitter and Instagram for latest news and live news updates.