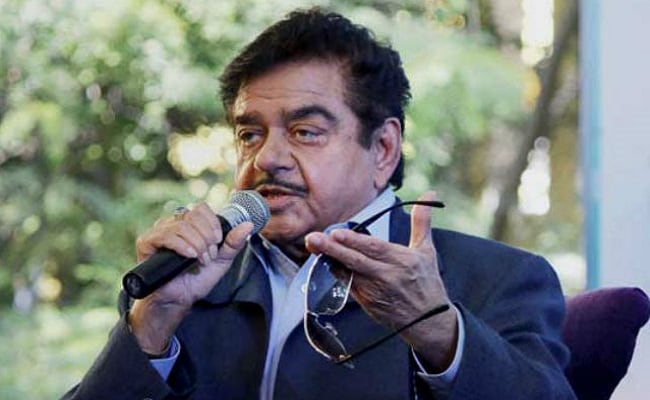 Patna:
Disgruntled BJP MP Shatrughan Sinha today rubbished the fresh demands for special category status to Bihar raised by JD (U) and seconded by his own party besides ally like LJP as crocodile tears shed ahead of the general elections. In a series of scathing tweets, Mr Sinha, who represents Patna Sahib in the Lok Sabha and has been critical of the BJP leadership for quite some time, alleged "performance has given way to only propaganda" in Bihar where the NDA has been in power for nearly a year.
He cautioned NDA "friends" to start performing or else there are "Arjuns" willing to take over as Tejashwi Yadav's challenge was knocking on the doors.
"With the general elections knocking at our doors, the crocodile tears are back.. and the drama starts unfolding once again. The ruling coalition in Bihar (NDA) is demanding special status for Bihar, yet again..that too from their own central NDA govt and publicly", Mr Sinha tweeted.
The remarks came in the backdrop of a recent statement by Chief Minister Nitish Kumar, who heads the JD(U), wherein he had made a fresh pitch for grant of special category status to Bihar and indicated that the demand would be put before the 15th Finance Commission.
His demand drew support from Deputy CM Sushil Kumar Modi, a BJP leader, and Union Minister Ram Vilas Paswan, who heads the Lok Janshakti Party.
"Is it not just propaganda for votes. Stooping down to rock bottom level out of an insatiable greed and desire to stay in power. Sadly, performance has given way to only propaganda. Endeavour for growth and development has been replaced by trifling truancy, sluggishness and lip-service," the actor-turned-politician said in another tweet.
NDA leaders in Bihar were not immediately available for comment on Mr Sinha's latest outbursts.
Their discomfiture with his contrarian views has, however, been evident on occasions like a function held in Patna two months ago, where he shared the stage with RJD leader Tejashwi Yadav and former Union Minister Yashwant Sinha.
Sushil Modi had launched a veiled attack on the Patna Sahib MP saying BJP's shatrus (enemies) should follow their mentor, referring to Yashwant Sinha's announcement that he was severing his ties with the BJP.
The actor-turned-politician, has of late been quite sympathetic towards jailed RJD supremo Lalu Prasad.
"My dear friends of NDA coalition. Start performing and executing for the state of Bihar or else..there are Arjuns willing to take over.. as Tejashwi Yadav's challenge echoes in all corners of Bihar," he said in another tweet.