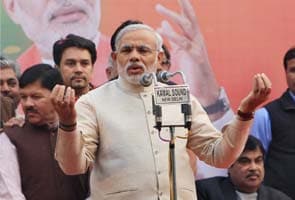 New Delhi:
Sushil Kumar Modi, a senior leader of the BJP in Bihar, could be forgiven for holding a grudge against Narendra Modi.
He was Deputy Chief Minister of Bihar till he lost his job, along with 10 other BJP ministers, on account of Mr Modi.
Bihar Chief Minister Nitish Kumar ended a 17-year alliance with the BJP and booted it out of the state government, citing the BJP's decision to give Mr Modi top stature by placing him in charge of its campaign for the national election.
Today, Sushil Kumar Modi reprimanded Mr Modi for a different reason - a meeting in Gandhinagar with Sadhu Yadav, a member of the Congress and the brother-in-law of former Bihar Chief Minister Lalu Yadav, who is also chief of the Rashtriya Janata Dal or RJD.
"It doesn't matter whether Congress wants or not, the people of the country want Narendra Modi," said Sadhu Yadav after the meet.
The consultation triggered aftershocks in Bihar, with suggestions that Sadhu Yadav wants to join the BJP.
Incorrect, Sushil Kumar Modi said. He tweeted, "Meeting of Sadhu Yadav with Narendra Modi was just courtesy visit. No question of taking in BJP." But he also warned that Narendra Modi must not meet non-BJP leaders from Bihar without consulting the party's state branch.
The BJP and Lalu Yadav have been acrimonious rivals since an unsuccessful brief attempt to co-govern Bihar in 1990.
But the BJP, after being dumped by Mr Kumar, is believed to be keen on exploring new alliances. And though both sides firmly deny it, there is repeated talk of a possible partnership with Lalu.
Sadhu Yadav didn't exactly quell that talk by stating that Narendra Modi, in today's meeting, asked after Lalu.