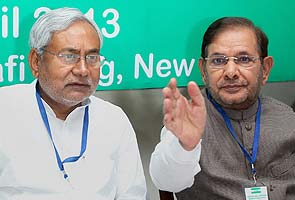 New Delhi:
With no other contender in race, Sharad Yadav is all set to be President of JD(U) for a third consecutive time on Sunday.
Mr Yadav was the only one to have filed the nomination for the post and Saturday was the last day for withdrawal of nomination. The decision will be announced at the party's national council meet on Sunday.
Mr Yadav's name was proposed from around 20 state units of the party including Bihar where JD(U) is running a government in alliance with BJP.
Bihar Chief Minister Nitish Kumar was the first proposer in one of the nomination sets filed by Mr Yadav.
He became JD(U) president in 2006 replacing George Fernandes who had been elected the party president in 2003.
Though the term of president in JD(U) is only two years, Mr Yadav continued till 2009 and was again elected to the post.
The election for the party chief was due since 2011 but the party sought extension from the Election Commission.
A four-time MP from Madhepura Lok Sabha seat in Bihar, Mr Yadav, who is in politics for the last four decades, had first become MP from Jabalpur constituency in Madhya Pradesh in 1977 during the anti-Congress movement in the country.
Hailing from Hoshangabad district of Madhya Pradesh, he is an electronics engineering graduate from Jabalpur.
He was selected for the 'Outstanding Parliamentarian Award' for 2012.
Mr Yadav, who is also NDA convener, is getting the third stint as JD(U) Chief at a time when there is intense speculation whether his party will remain with BJP-led NDA amid increased focus on Narendra Modi as BJP's Prime Ministerial candidate for 2014 Lok Sabha elections.