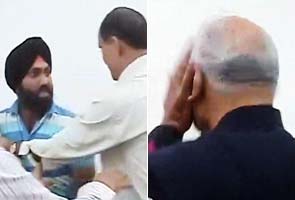 New Delhi\Pune:
Union Agriculture Minister Sharad Pawar was today slapped by a man at the New Delhi Municipal Corporation (NDMC) centre in New Delhi. The incident occurred while the minister was leaving the premises after attending a literary function. The attacker, identified as Harvinder Singh, reportedly blamed Mr Pawar for rising prices of essential commodities.
"This is my answer to corrupt politicians," shouted the attacker as he took out his
kirpan
(small knife) and threatened to kill politicians. He was whisked away by security guards soon after and was subsequently arrested by the Delhi Police and taken to the Parliament Street police station. He has been charged with attempted suicide, assault and criminal intimidation.
(See Pictures)
The attacker, incidentally, is the same person who slapped former telecom minister Sukhram inside the premises of a Delhi court, moments after he was sentenced to five years of rigorous imprisonment in a corruption case dating back to 1996.
"I was answering some questions by a group of journalists when I saw this man coming towards me and I thought he wanted to ask me a question. I don't know what his intention was. It is up to the police whether they want to press charges against him or not...I am no judge to forgive him," Mr Pawar, who is also the chief of the Nationalist Congress Party (NCP) which is a key ally of the Congress at the Centre, said reacting to the incident.
As soon as the news of the attack filtered in, there were reports of tension and sporadic violence in several parts of Maharashtra today. NCP workers blocked the Mumbai-Agra National Highway (NH4) near Nagpur to protest the attack. The party has also called for a Pune
bandh
tomorrow. There were reports of party workers blocking the city's Swargate area, as also reports of stone-pelting from the Talegaon industrial area. NCP activists also blocked traffic and shut down shops in Nagpur, Sholapur and Nashik.
(Read)
In Mumbai, NCP activists forcibly shut shops in Dadar and Mulund for a while. They also held protests at a mall in the city. There have been no reports of violence though.
Urging his party activists to maintain calm following the attack, Mr Pawar said, "Let the law take its own course."
Expressing surprise at the attack, the minister said that he had no enemies and refused to blame any political party for the attack.
(Watch)
Prime Minister Manmohan Singh, meanwhile, condemned the attack on Mr Pawar. "I don't know where this country is going," said Finance Minister Pranab Mukherjee on the incident.
Leaders cutting across political lines also condemned the attack on Mr Pawar. "This is wrong and whoever he is, must be punished. We are fighting over price rise, demonstrating on roads but we are not in favour of violence. Inflation should be curbed. We won't provoke anyone, that's our philosophy," said Samajwadi Party chief Mulayam Singh.
Mr Pawar's daughter and Lok Sabha MP Supriya Sule said the attack should not be publicised. "In a democracy, people have the right to protest but resorting to violent means is not the way."
Jammu and Kashmir Chief Minister Omar Abdullah also regretted the incident saying, "This is no civil behaviour, this conduct is not civil and can't be justified...it is inappropriate."
The Bharatiya Janata Party (BJP), while condemning the attack added that there was a sense of deep resentment among the people over soaring inflation. "First of all, we condemn what happened to Mr Sharad Pawar and perhaps there could have been proper preventive police action. But are the people of the country not in deep pain and distress because of price rise over three and a half years? That is the crucial question", said party spokesperson Ravi Shankar Prasad.
His comment came a just day after senior party leader and former finance minister Yashwant Sinha warned the government against growing anger among people because of rising prices. "The government was not ready to recognise inflation as a problem for the
aam aadmi
and it will not be surprising if price rise becomes a cause for violence," Mr Sinha had said.
His statement that continued price rise in the "absence" of any concrete steps may be becoming a reason for the people to vent their anger in the form of violence today came in for strong criticism from the Congress.
Veteran anti-corruption crusader Anna Hazare, meanwhile, reacting to the assault on the minister asked, "...only one slap?" Mr Hazare, though, hastened to add, "It's not right to physically attack anybody. I can understand he (the attacker) may have been angry but it's still not right. We are a democracy and this is not allowed."
(Read: Anna reacts to attack on Sharad Pawar)