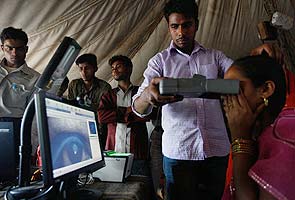 New Delhi:
In another blow to the UPA today, a parliamentary committee has rejected the bill which creates the Unique ID card or
aadhar
scheme that's being orchestrated by former Infosys head, Nandan Nilekani. The PM's vision, entrusted to Mr Nilekani, was for every Indian to receive a card bearing a 12-digit ID which will be stored in a central database and linked to the individual's fingerprints and other biometric data.
The Standing Committee on Finance, which is headed by the BJP's Yashwant Sinha, has rejected the National Identification Authority of India Bill 2010. The committee, made up of MPs from different parties, has consulted over the last few months with a series of experts and government officials as also Mr Nilekani. The panel has diagnosed the current bill as "directionless" and has asked for it to be withdrawn and replaced with a new one. Among the standing committee's concerns are whether the Unique Identification Authority of India (UIDAI) is legally empowered to collect biometric data, and the dangers of it being misused.
The government is not obliged to follow the committee's recommendations - but it has just been humiliated into suspending the reforms it announced for retail, and is unlikely to want a new controversy over another pet project that is not supported by other political parties. So the bill will now be sent back to the cabinet.
The Prime Minister has thrown his weight, so far, behind Mr Nilekani despite objections to the Unique ID card scheme from within his cabinet.
But Mr Nilekani, who holds cabinet minister rank as chief of the UIDAI, has faced opposition from within the government as well. Partly because of the huge bill - Mr Nilekani recently asked for an additional 15,000 crores.
Home Minister P Chidamabram has also objected to the fact that the UIADI's enrollment exercises are overlapping with his ministry's attempts to collect biometric and other data for the national census. That work is handled by the National Population Registrar (NPR).
So far, according to some reports, nearly six million UID cards have been issued across the country.
Get Breaking news, live coverage, and Latest News from India and around the world on NDTV.com. Catch all the Live TV action on NDTV 24x7 and NDTV India. Like us on Facebook or follow us on Twitter and Instagram for latest news and live news updates.