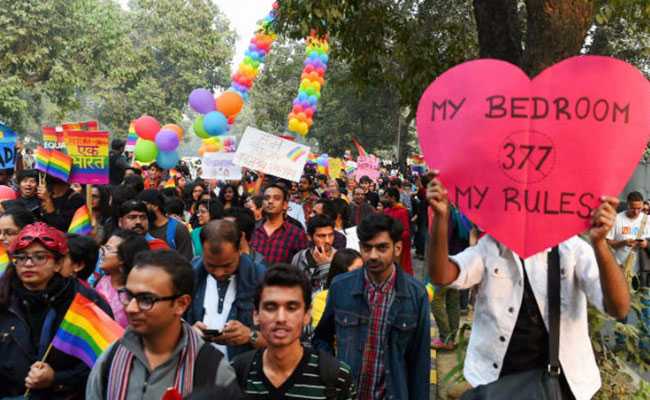 New Delhi:
In a landmark verdict, the Supreme Court today scrapped the controversial Section 377- a 158-year-old colonial law on consensual gay sex. The Supreme Court reversed its own decision and said Sectuion 377 is irrational and arbitary. "LGBT Community has same rights as of any ordinary citizen. Respect for individual choice is the essence of liberty; LGBT community possesses equal rights under the constitution. Criminalising gay sex is irrational and indefensible," said Chief Justice Dipak Misra, who headed the five judge bench hearing the case.
The judgment was delivered by a Bench of Chief Justice of India Dipak Misra and Justices Rohinton Nariman, AM Khanwilkar, DY Chandrachud and Indu Malhotra.
CJI Misra and Justices Nariman, Chandrachud and Malhotra delivered separate, concurring judgments.
The Supreme Court began hearing petitions against the ban in July, beginning an emotional debate over the right to freedom and privacy. While hearing the case, the judges have made observations that have largely given hope to the gay community.
Section 377 refers to 'unnatural offences' and says whoever voluntarily has "carnal intercourse against the order of nature with any man, woman or animal", shall be punished by up to 10 years in jail under the 1861 law. Although prosecution under Section 377 is not common, gay activists say the police use the law to harass and intimidate members of their community.
Here are the LIVE updates on Section 377:
Here's the timeline of the Section 377 case:
2001: Naz Foundation files petition
Naz Foundation, an NGO that work on HIV/AIDS and sexual health issues, files a petition in the Delhi high court against Section 377.
2009: Delhi High Court on Section 377
In 2009, the Delhi High Court described Section 377 as a violation of the fundamental rights guaranteed by the constitution. Religious groups, however, had appealed against the decision in the Supreme Court.
2013: Supreme Court Re-ciminalises Gay Sex
That Delhi High Court judgement was overturned by the Supreme Court in December 2013. It said that amending or repealing Section 377 should be a matter left to Parliament, not the judiciary.
2016: Curative petition by Naz Foundation, activists heard
In February 2016, the three-member bench headed by then the Chief Justice of India TS Thakur said that all the curative plea of NGO Naz Foundation and some gay rights activists will be reviewed afresh by a five-member constitutional bench.
2017: Supreme Court Upholds Right To Privacy
In August 2017, the Supreme Court held Right to Privacy as a fundamental right. Sexual orientation, the court said, is an "essential component of identity" and the rights of lesbian, gay, bisexual and transgender population are "real rights founded on sound constitutional doctrine".
2018: Supreme Court Hears Petitions on Section 377
In July, the Supreme Court reconsiders its 2013 decision and begins hearing petitions challenging Section 377. In one of the hearings, Chief Justice of India Dipak Misra indicated that the 150-year-old ban on gay sex may soon be gone. "We intend to rule, subject to arguments, that two consenting adults even if engaged in 'unnatural sex' will not be liable for prosecution for any offence," Chief Justice Misra had said.