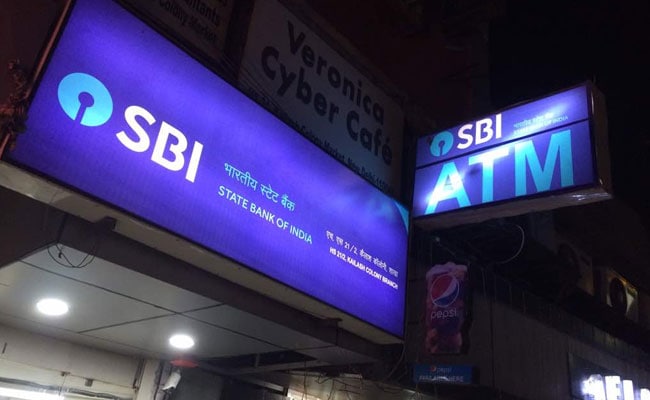 Highlights
SBI charges up to Rs. 100/month for not maintaining minimum balance
Minimum monthly average balance requirements vary according to place
In metro cities, the monthly average balance requirement is Rs. 5,000
SBI or State Bank of India, which accounts for one-fourth of Indian's banking assets, charges a penalty up to Rs. 100 (excluding GST of 18 per cent) per month for not maintaining monthly average balance in savings bank accounts. RBI has allowed banks to levy charges on non-maintenance of minimum balance in normal savings accounts. Customers holding SBI savings bank accounts in metro, urban, semi-urban and rural branches need to pay different penalty amounts for non-maintenance of MAB (monthly average balance), according to SBI website. SBI has specified penalty for various ranges of shortfall for its savings bank customers, according to the four categories of branches.

For example, if your SBI savings bank account is in one of the metro city branches, you need to maintain a monthly average balance of Rs. 5,000. Also, if the average balance maintained during a month comes out to be between zero and Rs. 1,500, or a shortfall of more than 75 per cent, a non-maintenance charge of Rs. 100 plus GST of 18 per cent will be levied. In case the average balance remains within Rs. 1,500 and Rs. 2,500, which means a shortfall of less than 75 per cent and more than 50 per cent, a charge of Rs. 75 plus taxes will be levied, SBI has said.

(Read: SBI ATM Withdrawal, Cheque Book, Other Transaction Charges. Details Here)

Meanwhile, for savings accounts with average balance of more than Rs. 2,500, SBI will charge a penalty of Rs. 50, plus taxes.

(Also Read: SBI Offers Home Loan At 8.35%: Five Things To Know)


However, for account holders in urban areas other than metros, semi-urban and rural areas, the MAB requirements are Rs. 3,000, Rs. 2,000 and Rs. 1,000 respectively. Here are the details of penalty for not maintaining MAB for these accounts.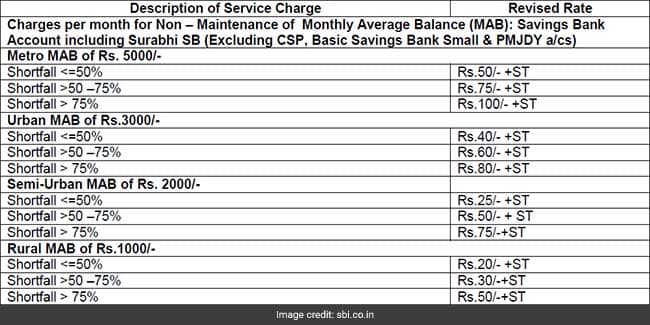 How to avoid fine under SBI's minimum balance rules

"A regular review of your account will help you to ensure the average monthly balance is maintained and avoid the minimal charges," SBI has said on microblogging site Twitter.


However, personal finance experts suggest not having too many saving accounts, which makes it difficult to maintain average balance.
ATM withdrawal charges
In metros, State Bank of India allows eight free ATM transactions (5 at SBI ATMs and 3 at ATMs of other banks), and 10 in non-metros (5 at SBI ATMs and 5 at ATMs of other banks). If you exceed the permissible limit on ATM withdrawal, a charge of Rs. 20 plus taxes will be levied for each additional withdrawal. However, for customers of Basic Savings Bank Deposit Account, only four withdrawals in a month (including branch and ATM withdrawal) are allowed free of charge.
Beyond 4 withdrawals, if you withdraw money at branch then Rs. 50 plus taxes will be charged. Rs. 20 will be charged if you withdraw at other bank ATMs and Rs. 10 will be levied for withdrawing money at SBI ATMs beyond the 4 free withdrawals.