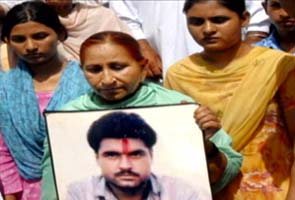 Doctors in Pakistan say that the condition of Sarabjit Singh, the Indian prisoner who is comatose at a Lahore hospital, has deteriorated further, but they have denied reports that he is brain dead.
Sarabjit, 49, is on ventilator support at the Jinnah Hospital after a murderous attack on him by other prisoners last week in the Kot Lakhpat Jail, where he had been on death row since 1990.
His sister Dalbir Kaur, who is in Pakistan with his wife and two daughters on emergency visas, said doctors had asked her if Sarabjit should be removed from life support and she had said "not yet."
Ms Kaur has said she will escort her sister-in law and nieces back to India across the Wagah border on Wednesday morning. PTI said Ms Kaur plans to return to India to seek advice on her brother's treatment. Ms Kaur, who had earlier sought that he be brought to India for treatment, has now demanded that Indian doctors be brought in to assist the Pakistani doctors treating him.
Sarabjit Singh's lawyer in Pakistan, Awais Sheikh, has complained that the doctors at the Lahore hospital are "trying to hide something" though he said Mr Singh's family and he had been allowed to visit him any time.
The doctor heading the team supervising Sarabjit Singh's treatment, Mahmood Shaukat, told PTI on Tuesday evening that, "He continues to be serious but has not been declared brain dead. In our latest investigation, there was no sign of improvement. Rather, his condition further deteriorated."
Dr Shaukat said top neurosurgeons and physicians are providing Sarabjit the best treatment to try and save his life.
India has appealed to Pakistan to release the prisoner and let him return home. External Affairs Minister Salman Khurshid told NDTV on Tuesday that Sarabjit has "suffered enough" and he should be allowed to come home.
Sarabjit Singh was convicted for alleged involvement in a string of bomb attacks that killed 14 people in Pakistan's Punjab province in 1990. But his family says he is innocent and that he had inadvertently strayed across the border when drunk.