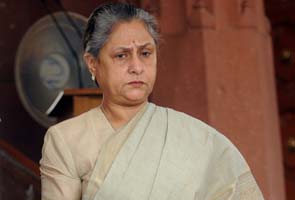 Mumbai:
Jaya Bachchan, member of parliament and veteran actor, will appeal to the Maharashtra governor, K Sankarnarayanan, to pardon actor Sanjay Dutt, who was sentenced on Thursday to five years in prison in an arms case related to the 1993 Bombay blasts.
"I agree with everyone that he has suffered a lot. I believe that he should not be given such a big punishment. He is a changed man now. I'm going to personally appeal governor and ask him to pardon him," said Mrs Bachchan today.
The chairman of the Press Council of India, Justice Markandey Katju, has already written to the Maharashtra Governor, pointing out that Article 161 of the constitution grants Governors and the President the authority to pardon or reduce a sentence.
"In the case of Sanjay Dutt, the Supreme Court has not found him guilty for the 1993 bomb blasts, but only found him guilty of having in his possession a prohibited weapon without licence," Justice Katju wrote. "His parents Sunil Dutt and Nargis worked for the good of society and the nation. Sunil Dutt and Nargis often went to border areas to give moral support to our brave jawans and did other social work for the society," he added.
The Supreme Court yesterday upheld an earlier conviction that found Mr Dutt illegally owned an AK-56 rifle and a pistol gangster Abu Salem, but the judges shaved a year off the original sentence. They also said that because Mr Dutt has already spent 18 months in jail before being released on bail in 2007, he will spend a little over three years in prison.
Justice Katju said that the sentence relates to an offense that is 20 years old. "During this period, Sanjay suffered a lot and had a cloud hovering over his head throughout. He had to undergo various tribulations and indignities during this period. He had to go to court often, he had to take the permission of the court for foreign shootings, he could not get bank loans, etc," Justice Katju said.