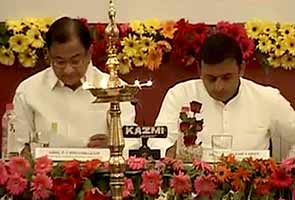 Lucknow:
Fickle ally Samajwadi Party has assured the UPA government that it is not withdrawing the external support it provides just yet. That came with a disclaimer - Uttar Pradesh chief minister Akhilesh Yadav said the support was only to keep "communal forces at bay."
It was evening on Friday by the time Mr Yadav said, "I don't want to get into the arithmetic. We are only supporting them to stop communal forces." He also said that his father and SP chief Mulayam Singh Yadav would decide when to pull the plug on the UPA government, but his party was ready for elections.
In the morning, the CM shared stage with Finance Minister P Chidambaram in Lucknow; the latter patted him on the back, praised his skills in governance, and, noting that UP had large financial needs, promised to consider more Central funds for the state. Only last evening Prime Minister Manmohan Singh had acknowledged that the SP could withdraw support and Mr Chidambaram's attempt was seen as the Congress extending an olive branch to an important ally.
The BJP's Ravi Shankar Prasad called it a "lollipop" to "bribe the Samajwadi Party with."
Mr Yadav senior has kept the UPA on tenterhooks ever since its ally the DMK walked out last week, making it depend even more heavily on the SP. He has made scathing attacks on the Congress even accusing it of "cheating the people."
(Read)
Prime Minister Manmohan Singh said last evening that despite allies causing instability, he is confident that his government will finish its full term.
(Read)
Elections are due only in mid-2014, but Mr Yadav's party says it expects polls by November this year and also that a non-BJP, non-Congress Third Front coalition will form the next government.
The UPA, after the exit of the DMK, has 223 MPs in the Lok Sabha and depends heavily on the SP's 22 and BSP's 21 to touch the half-way mark and keep its head above the water.