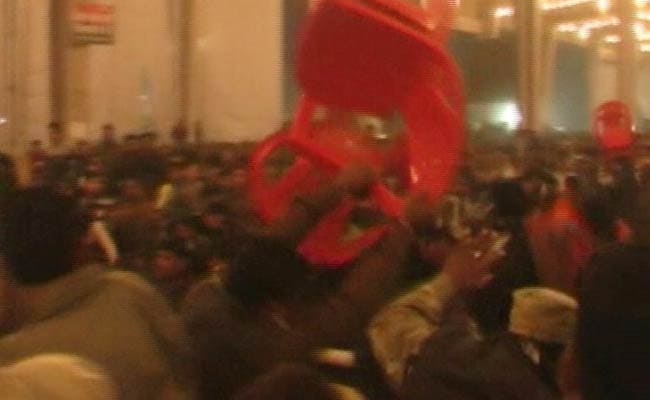 Etawah:
The 17-day annual Saifai Mahotsava came to an end here with dazzling performances by Bollywood personalities even as the last day of the event was marred with clashes in which two policemen were injured and several vehicles were damaged.
The event started with a controversy over Chief Minister Akhilesh Yadav's absence at the inaugural session and ended last night with several Bollywood celebrities performing at the event.
It continued till late last night with performances by Saif Ali Khan, Kareena Kapoor, Ranveer Singh, Sonakshi Sinha, Arjun Kapoor and Parineeti Chopra, with hit songs rendered by Mika, Badshah and Javeed Ali keeping the audience spellbound.
The event took an ugly turn with locals clashing with the police while jostling their way towards the venue to watch the star-studded show last night.
In the clash, four police jeeps and three OB vans of television news channels were damaged.
A sub-inspector and a constable were also injured in the brick batting by the mob. The situation was, however, brought under control by the police.
Comedian Sunil Grover also performed at the event, which started on December 26.
The Chief Minister was conspicuous by his absence and reports said he skipped the inaugural event as he was upset over expulsion of two of his close associates, Sunil Yadav alias Sajan and Anand Bhadauria.
Sunil Yadav was national president of Samajwadi Party (SP) Chhatra Sabha, while Mr Bhadauria was former national president of Lohia Vahini.
The expulsion of both leaders was later revoked and the Chief Minister attended the event, putting a lid on the controversy which kept hogging newspaper headlines for days.
The annual family fiesta, which is being held for the last 18 years, saw performances by Pakistani singer Rahat Fateh Ali Khan, ghazal singer Peenaz Masani and several Bollywood stars.
The festivities were inaugurated by SP chief Mulayam Singh Yadav, with his brother and cousin Shivpal Yadav and Ram Gopal Yadav in tow. Ram Gopal Yadav lit the lamp and performed 'puja' and took part in 'Hawan' to mark the beginning of the festivities.