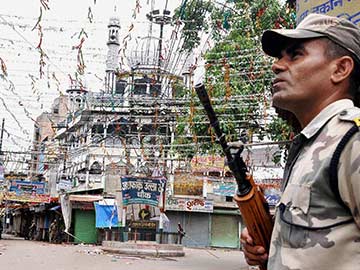 Saharanpur:
After Saturday's violent clashes between two groups that killed three and injured 34 in Uttar Pradesh's Saharanpur, the city has remained tense but violence free.
The district administration has decided to relax the curfew for a few hours today. In the new city area, the curfew will be relaxed from 10 am to 2 pm, while in the old city area from 3 pm to 7 pm.
38 people have been arrested in connection with the incident and nine First Information Reports or FIRs registered, District Magistrate Sandhya Tiwari said.
The clashes broke out in the wee hours on Saturday after members of the Sikh community began construction on a disputed piece of land on Friday evening, which was opposed by local Muslims.
Both sides indulged in arson and opened fire. Police had to fire rubber bullets to rein in the rampaging mobs.
Around 2000 paramilitary personnel are on the ground. Unmanned aerial vehicles have also been deployed to keep a close watch on the situation.
Political parties, meanwhile, blamed each other for the violence. "In UP, there is no place for communalism, anti-social elements... if Opposition tries to politicise this, then law will take its own course," said Rajendra Chaudhary, the spokesperson of the ruling Samajwadi Party.
"Akhilesh Yadav has failed to run a good government... they have developed a habit of blaming BJP," retorted the party's Shahnawaz Hussain.
The disagreement over the land began over four years back. Sikhs living in the area wanted to extend the area of their gurudwara. But Muslims, living just 200 metres away from the spot, claimed a mosque was situated at the site 10 years ago.
The case reached the local court which recently ruled in favour of the Sikhs. Members of the Muslim community then moved the Allahabad High Court against the verdict, but later withdrew the case.
On Friday evening, the Sikhs started construction on the land. That set off the trigger, with mounting tension in the area finally leading to the early morning clash.
The residents caught in the cross fire allege that the clash was a result of police and intelligence failure. They also accuse the police of being slow. But sources in the administration say their priority now is to normalise the situation before Eid on Tuesday.