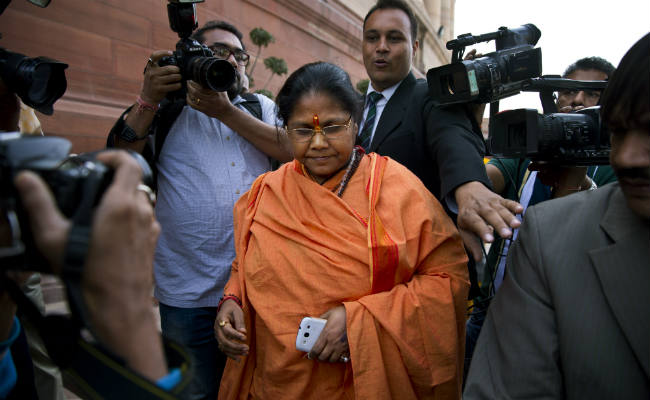 New Delhi:
Union Minister of State for Food Processing Industries Sadhvi Niranjan Jyoti, whose hate speech kicked up a political storm and stalled Parliament, has been given VIP security. 47-year-old Jyoti will now have 11 para-military personnel guarding her round-the-clock, official sources have said.
Under this security categorisation, the Minister, who hails from Uttar Pradesh, will be provided with armed security cover by commandos during her visits to her state and in the National Capital Region.
An old political rivalry in Fathepur, her constituency, that led to exchange of fire in June last year was cited as reason for beefing up security of the Minister.
The sources said a threat analysis of the Minister prompted central security agencies to recommend armed security cover for her, after which the Union Home Ministry decided to accord her the 'Y' level of security.
Another surprise inclusion in the list was that of working President of Ramjanmbhoomi Nyas in Ayodhaya, Mahant Nritya Gopal Das, who has also been accorded a 'Y' category VIP security cover, which will be provided by CRPF. The reason cited for augmenting the Mahant's security was that he had been attacked in 2001 by some unidentified youths. At that time, NDA government was in power.
Minister of State for Home Affairs Haribhai Parthibhai Chaudhary will also have an upgraded security of 'Z' category, similar to that of the other Minister of State in the Home Affairs Department, Kiren Rijiju. Now, he will be guarded by 35 para-military force personnel round-the-clock, the sources said.